On October 7, Nio will celebrate its market entry into the European Union market. The events will occur in Nio Houses in Berlin, Frankfurt, and Düsseldorf – Nio Germany announced.
A year ago, on October 7, 2022, when over 1,300 guests gathered in Berlin for the launch ceremony, the company announced expansion into four new markets – Germany, Netherlands, Denmark, and Sweden.
The EU market entry occurred precisely one year after Nio entered Norway in 2021 on September 30.
Nio compiled a video to commemorate the beginning of its almost 10-year journey for this action. The Chinese EV startup was founded in 2014 as NextEV; in 2015, they established a design HQ in Munich, Germany, and an R&D Center in Oxford, UK, and California, US a year later.
In 2016, the company was renamed to Nio. In 2017, their hypercar EP9 broke the record at Nurburgring Nordschleife as the world's fastest electric car.
In Europe, Nio delivers 6 models – Nio ET7 large sedan, EL7 SUV, ET5 mid-size sedan, ET5T (Touring, station wagon), and EL6 mid-size SUV (ES6 in China due to a lawsuit with Audi). In China, Nio also sells EC6 and EC7, but their sales are very low, so Nio probably won't bring them to Europe. However, a new generation of large ES8 based on NT2, the company's flagship SUV, will most likely make it to Europe as EL8.
In China, most of the sales are contributed to ES6 & ET5.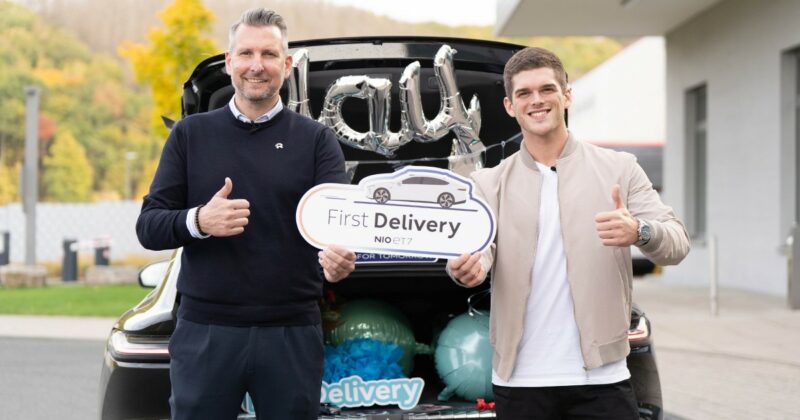 The backbone of Nio's charging experience is battery swap stations. Nio calls them power swap stations (PSS), and users can use them alongside traditional charging. The Hefei-based company planned to have 120 in Europe by the end of 2023. This goal was later quietly reiterated to 80 PSS. As of October 1, Nio has 26 PSSs in Europe and 15 Nio Houses.
In China, Nio currently has 1931 PSS and has conducted 29.7 million battery swaps. On September 28, Nio reached the record and swapped 75 thousand batteries in a single day. There are also 122 Nio Houses in China, which work as premium showrooms.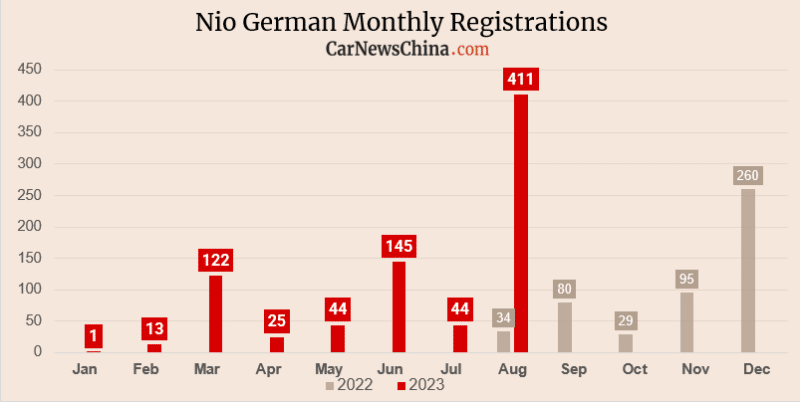 In eleven months since its market entry in October 2022 to September 1, Nio registered 1189 vehicles in Germany. 411 of those registration took place in August. Nio offers two options in Europe – buying a car or subscribing. Registration numbers contain both options as they track new vehicles that received a plate and road permit.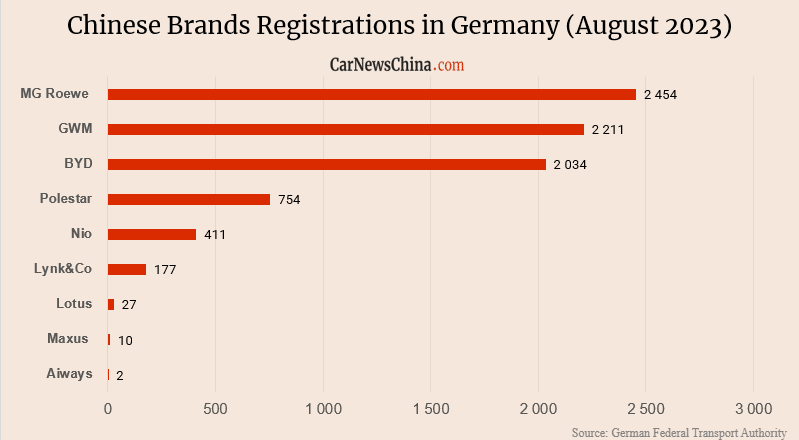 In September, Nio delivered 15,641 EVs. This marks a year-on-year increase of 43.8%. However, compared to the previous month, Nio's September deliveries saw a decline of 19.1%.