Nio surpassed the 2000 swap station milestone. The company operates 1,975 swap stations in China and 27 in Europe, bringing the total number to 2002 as of today. The Hefei-based EV maker is getting faster: The first 1,000 took Nio four years, and adding the second 1,000 took them a year and three months.
The first Power Swap Station (PSS), as Nio calls it, was built in Shenzhen in May 2018. The PSS number #1000 then went into operation in July 2022. Today, Nio celebrates PSS #2000 going live and 30 million conducted battery swaps, which it reached last week.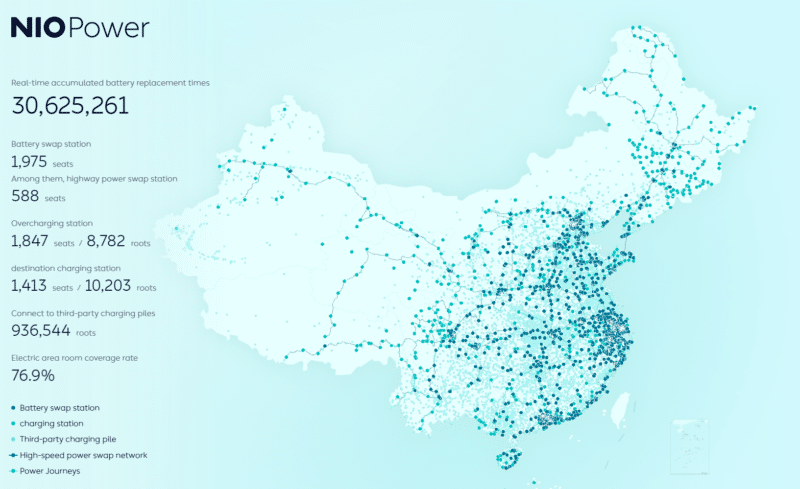 As Nio is expanding to Europe, the first swap station landed on the Old Continent almost two years ago, in January 2022, in Norway. Nio planned to have 120 PSS in Europe by the year-end, but this goal was later reiterated to 80 PSS. Nio has 27 swap stations in Europe and, as of today.
However, battery swapping and the BaaS (battery-as-a-service) model are new to European customers, and some even report confusion. Nio offers two options for using its vehicles in Europe: standard purchase and subscription. The subscription is mainly seen as a leasing alternative favored primarily by business customers. If you choose the buyout option, you have two choices again – you can purchase it with a battery or opt-in for a BaaS, meaning you don't own the battery and only pay a monthly fee for the renting. However, if you purchase a car with a battery, you are not eligible for BaaS. In other words, you can't use battery swap stations and can only charge your vehicle like everybody else.
Nio currently installs the Power Swap Station 3.0 with two lidars, which can store 21 batteries and perform swaps in about 3 minutes.
Nio also strives to license its swap technology to other automakers. In December last year, Nio's President Qin Lihong claimed that their technology is open to anyone. No other automaker has yet reported partnering with a Hefei-base automaker on swapping tech. However, in China, Nio is not alone.
There are more players in the battery swap business. They are far behind Nio in the number of battery swap stations and offer their services mainly to ride-hailing businesses or taxis. Let's have a look at the three most prominent.
Geely
In September 2021, Geely Group reported they aim to have 5,000 battery swap stations for electric vehicles globally by 2025. Geely Group has two brands producing EVs with battery swap functions. Cao Cao Auto and Livan. Cao Cao is a ride-hailing service like Uber, and Cao Cao Auto makes cars for their drivers. The latest model is Cao Cao 60, which is a pretty good car for cab drivers; unfortunately, it got into the headlines for dropping its battery pack while driving.
And second, Geely's swappable brand is also not sleeping. Last month, in September, they launched Livan 7, an electric car with lidar and a swappable battery for 117,700 – 173,700 yuan (16k – 23.7k USD), the cheapest electric passenger vehicle with lidar globally.
CATL
In April 2022, battery giant CATL launched its first battery swap station under the EVOGO brand in Xiamen. It used Swappable Electric Block (SEB) technology, also called Choco-SEB. The battery modules were structured into 48 Coco-SEBs to be easily swapped when needed. Bestume NAT from the state-owned FAW Group was the only compatible vehicle.
GAC Aion
Last, GAC Aion plans to have 500 swap stations by 2025 in China. It has already built the first 14 swap stations in Guangzhou in August. GAC Aion is an electric brand under the state-owned Guangzhou Auto (GAC) that recently got into the headlines thanks to its Hyper SSR 1,207 HP beast, the first Chinese mass-produced electric supercar.
The only EV under Aion's umbrella that supports battery swap is Hyper GT, which launched in China in July. The car offers five versions, and one of them is equipped with a swappable battery. Like in Nio's case, customers buy the car without a battery and opt-in for BaaS.