Between October 16-22 (week 42 of the year), Xpeng had the most significant growth of 48%, selling 4,700 cars, Nio grew 26% to 4,400 sold vehicles, and Li Auto was down 14% to 9000 sold cars, which is still enough to secure a first spot among NEV startups.
The data were published by Li Auto, and they represent weekly sales. The background data are weekly insurance registrations. The numbers are rounded and present new energy vehicles (NEV), the Chinese term for BEVs, PHEVs, and EREVs (range extenders). To be completely precise, it also includes hydrogen vehicles (FCEVs), but their sales are almost non-existent in China.
As always, BYD won first spot in the top 10 best-selling electric vehicles, registering 51,700 cars, down 4% from the previous week. From October 1-24, BYD sold 162,200 cars in China. The insurance registration doesn't show the breakdown of BEV vs. PHEV sales, but it is usually 50:50, with the trend leaning towards BEVs. In September BYD sold 53% BEVs and 47% PHEVs.
BYD terminated the production of ICE vehicles in April 2022, focusing only on all-electric vehicles and plug-in hybrids. The price of BYD's cars varies a lot. Their lineup consists of budget EVs, such as 11k USD Seagull hatchback, and premium sedans, such as 46k USD Han.
The second spot goes to Wuling, a brand under the Sino-American joint venture SGMW between SAIC, Wuling, and GM. Wuling sold 9,400 electric cars, up 8% from the previous week. Wuling focuses on budget EVs, and its current best seller is BYD Seagull's main competitor, Wuling Bingo.
The third spot in China goes to GAC Aion, which sold 9,100 EVs, down 7% from the previous week. GAC Aion is an EV brand under state-owned Guangzhou Auto (GAC), and despite being one of the largest EV brands in China, it doesn't have much recognition outside its borders. However, it is slowly changing as the Aion Hyper SSR got into the headlines a few days ago with its 1224 horsepower and hypercar vibe.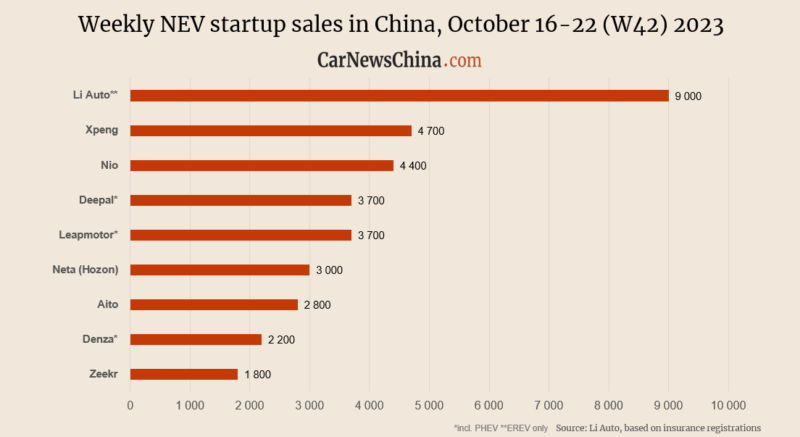 Among the Chinese electric startups, Li Auto is the winner of 9000 sold cars, down 14.29% from the previous week. So far in October, Li Auto sold 26,800 vehicles in China. Li Auto aims to reach 40,000 sold cars this month. It would need to boost sales significantly in the next week to accomplish this milestone and sell 13,200 cars in 9 days.
Li Auto sells only range-extended electric vehicles (EREVs), which are EVs with ICE as a power generator for the battery, not connected to wheels. In December, Li Auto will launch its first all-electric car, Li Mega. It will be a massive MPV priced above 500,000 yuan (70k USD) with a pretty futuristic design.
Xpeng did a pleasant surprise, selling 4,700 vehicles, up 46.88% from the previous week. Guangzhou-based EV maker is recently on the wave of success. Its Model Y competitor, Xpeng G6, got great reviews and is selling well, and the updated flagship SUV, Xpeng G9, launched in September. Xpeng also managed to license its old Edward platform to Volkswagen. German auto group will use it to launch two new EVs for the Chinese market by 2026. Edward underpinned the previous G9. The updated version switched to Xpeng's more modern SEPA 2.0 platform.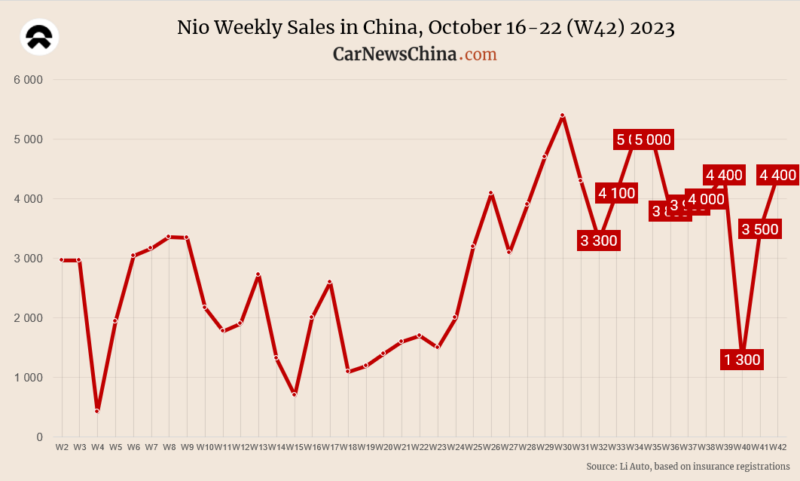 Nio sold 4,400 vehicles, up 25.71%. So far this month, Nio has sold 9,500 cars in China. In September, Nio sold 115,641 vehicles in China. On October 20, Nio reached 2,000 battery swap stations milestone globally. 27 of them are in Europe and the rest in China. Nio Sold 15,641 EVs in Septemeber in China.
After a long time, we can see the US-listed trio, Li Auto, Xpeng, and Nio, in the top 3 together.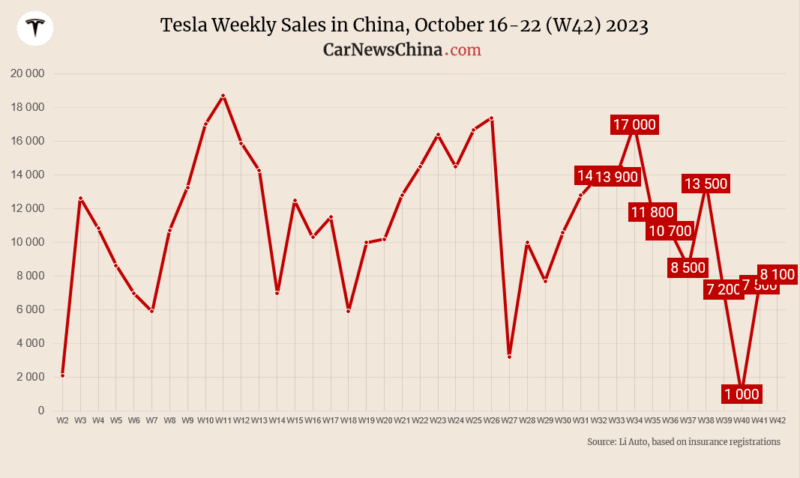 Tesla registered 8,100 vehicles, up 8% from the previous week. All of the registrations were Model Y SUVs, Model 3 (old and new versions), registered zero cars.
Tesla started pre-sales on the facelifted 2024 Model 3 (codenamed Highland) last week in China, and deliveries are expected to begin very soon. However, Tesla is currently focusing on exporting the China-made 2024 Model 3 to overseas markets, mainly Europe, giving the overcrowded and thin-margin Chinese EV market a lower priority.
Yesterday, thousands of new Model 3s were spotted at the Shanghai Nangnan terminal, pilling up for export to Europe.