A very mean and very clean Nismo Nissan 350Z, seen in the great city of Foshan in Guangdong Province. The great Japanese sportsmachine has been sexed up considerably with Nismo happythings, including a low front lip, lowered suspension, side skirts, and racy 5-spoke alloys.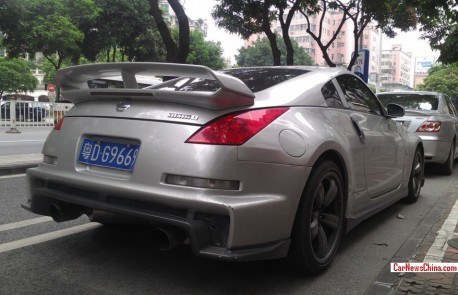 Things get even better at the back with a giant wing and an huge diffuser that will make this Zed go straight through the road to the speedy heavens below. Beauty of a car!
The Nissan 350Z was made from 2002 until 2008, it was never officially exported to China but some examples arrived via the gray market. This particular vehicle is likely a US-import, check license plate area that is much too small for Chinese plate but just big enough for the tiny American stuff. In base form the Nissan 350Z was powered by a 3.5 liter V6 with 300hp and 353nm, but I bet this Foshan car has a few Nismo horses more!
Time now, for our Famous China-Nissan 350Z Collection™: matte blue, matte black & carbon fiber, at karaoke, green alloys, bluegreen, Bling Roadster, and an orange Nismo.