A very sleek and very silver Mercedes-Benz C140 CL600, seen in the great city of Foshan in Guangdong Province. The good vehicle seems to be in a remarkable fine and original state, which is impressive because the C140 was never officially exported to China so parts are very hard to get.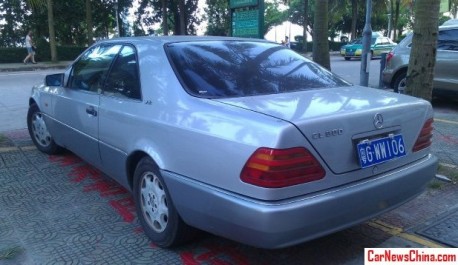 Note V12 badges on the C-pillar. The C140 was produced from 1992 until 1999. The CL 600 was the top-spec car, powered by a mighty 6.0 liter V12 with an output of 402hp and 580nm, good for a 245km/h top speed.
This particular example is the very first C140 CL we meet in China. However, we got a lot of the W140 sedan: black S500, green S280, S600 in black, Pullman S6000, S500 with W210 E, motorcade, motorcade, S500, crash, body kit, S500 in white, S600, and another S600.