A very happy Lamborghini Aventador, Spotted in China in front of the Sheraton Hotel in the great city of Chongqing. The ludicrous Lamborghini was wrapped in a shiny Pink wrap, and further sexed up by black alloys and Pink brake pads. The Sheraton seems to become a super car hotspot, earlier on we met a Pagani Huayra and a matte gold Ferrari F12berlinetta at the same location.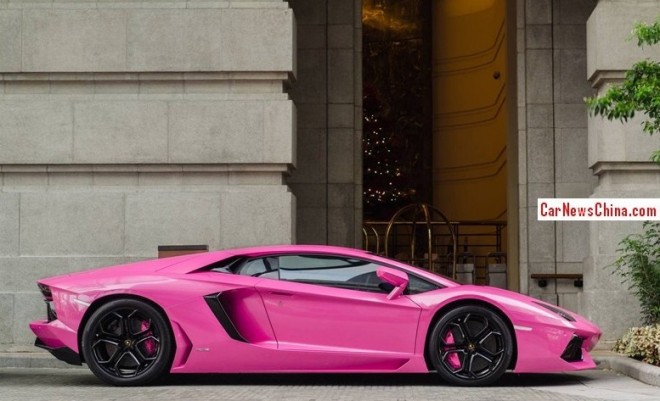 The wrap seems to be of the highest quality and is neatly extended over the bumpers, mirrors and door handles. The air inlets are in carbon-black for contract. Great wrapping work here, and we happen to know that the original color of this Lambo was orange. Pink is much better indeed.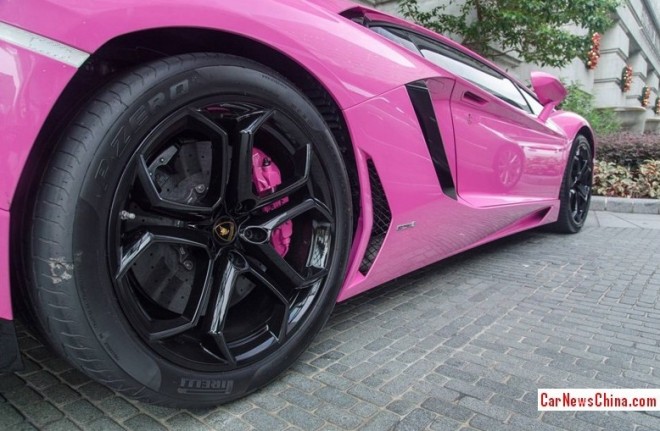 Pink brake pads are the best part.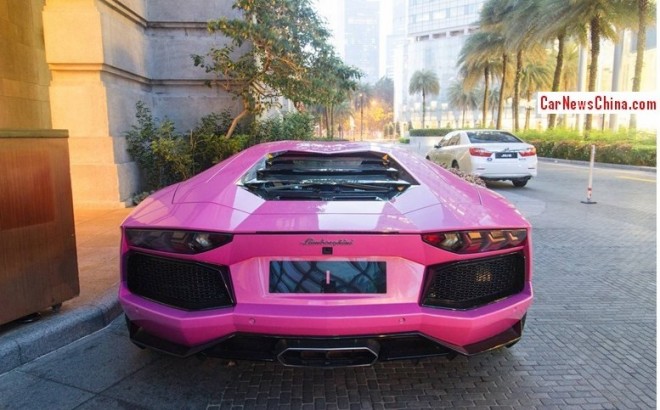 The Lamborghini Aventador is a mighty popular super car in China. Power comes from a manic 6.5 liter V12 with 700hp and 690nm. Price for all this pretty: 7.38 million yuan or 1.2 million USD. Not cheap, but 350km/h, and even faster in gold.
Time now, for our Famous China-Lamborghini Aventador Collection™: DMC LP-900 Roadster, DMC LP-900 Limited Edition, matte lime Roadster, shiny gold, DMC LP900, crash, sinking, yellow roadster, police & the replica, with 458, green-blue black,  shiny-lime green, black in Beijing, with Roller, Anniversario Edition, baby blue, Arsenal, white, shiny blue, with Lambo-friends, DMC LP900, crash, blue & orange, matte black,   strange alloys, with monk, too many, matte-black, with horny babes, in mustard yellow (scroll down), and impounded.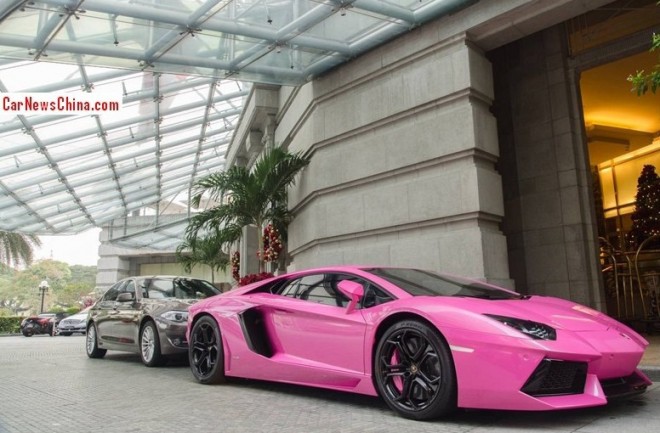 Pink eats Bimmer.
---