A very flashy Lamborghini Aventador, seen in the great city of Jinhua in Zhejiang Province in central China. The sonic super car is wrapped in a eye murdering shiny gold wrap, making the rest of the whole city look gray and drab. The ludicrous Lambo is further sexed up by black 5-spoke alloys, matte black air vents under the window, a matte black fuel cap, and matte black mirrors.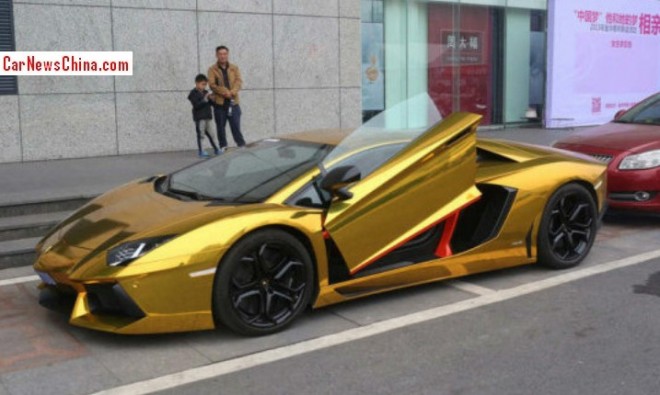 The mirrors are slightly disturbing, because matte black doesn't go too well with gold and matte black certainly doesn't go with black. The mirrors should have been black or gold, not something matte. The same goes, but to a lesser extend, for the air vents and fuel cap. The open door reveals the original color was orange, which is far too boring indeed.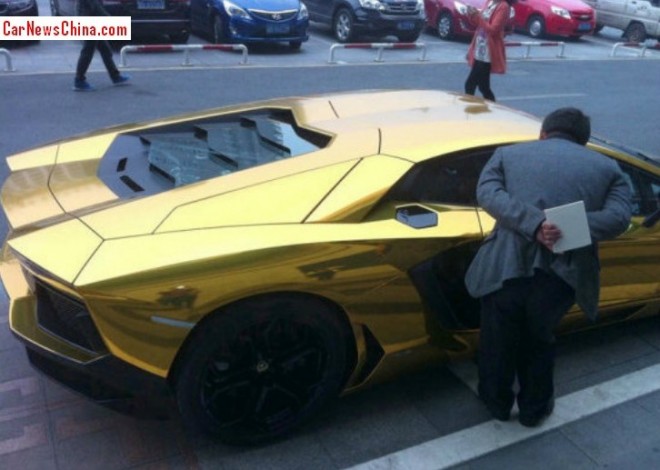 A local man checks the interior. The Lamborghini Aventador is a mighty popular super car in China. Power comes from a manic 6.5 liter V12 with 700hp and 690nm. Price for all this pretty: 7.38 million yuan or 1.2 million USD. Not cheap, but 350km/h, and even faster in gold.
Time now, for our Famous China-Lamborghini Aventador Collection™: DMC LP900, crash, sinking, yellow roadster, police & the replica, with 458, green-blue black,  shiny-lime green, black in Beijing, with Roller, Anniversario Edition, baby blue, Arsenal, white, shiny blue, with Lambo-friends, DMC LP900, crash, blue & orange, matte black,   strange alloys, with monk, too many, matte-black, with horny babes, in mustard yellow (scroll down), and impounded.