A very froggy Lamborghini Aventador Roadster, Spotted in China in an underground parking lot in the great city of Shanghai. The lunatic Lambo was painted in an eye-boggling matte lime green wrap, and further sexed up by a matte black – matte lime green interior, darkened head lights, darkened rear lights, and matte black mulsispokes.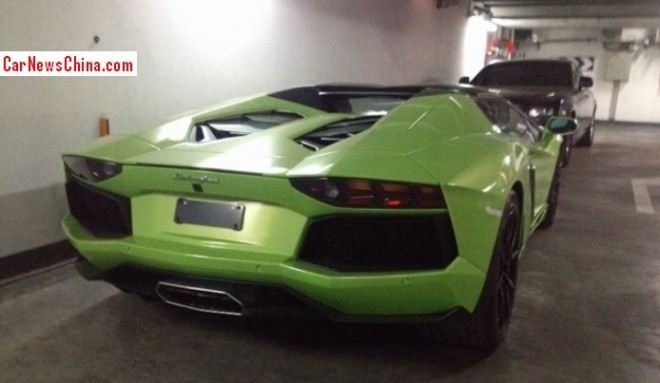 Engine-air vent covers in matte black as well. Exhaust pipe will kill any frogs that dares to have a look. Note Rolls-Royce Ghost in the background, how a whale of a car that is compared to low sliding Lamborghini!
The Lamborghini Aventador LP 700-4 Roadster is powered by a 6.5 liter V12, good for 700hp and 690nm. Price for all this pretty is 7.38 million yuan or 1.2 million USD. Not cheap, but the frogs come for free woth this particular car.
The Lamborghini Aventador is one of the most popular super cars in China. Here is our Famous China-Lamborghini Aventador Collection™: shiny gold, DMC LP900, crash, sinking, yellow roadster, police & the replica, with 458, green-blue black,  shiny-lime green, black in Beijing, with Roller, Anniversario Edition, baby blue, Arsenal, white, shiny blue, with Lambo-friends, DMC LP900, crash, blue & orange, matte black,   strange alloys, with monk, too many, matte-black, with horny babes, in mustard yellow (scroll down), and impounded.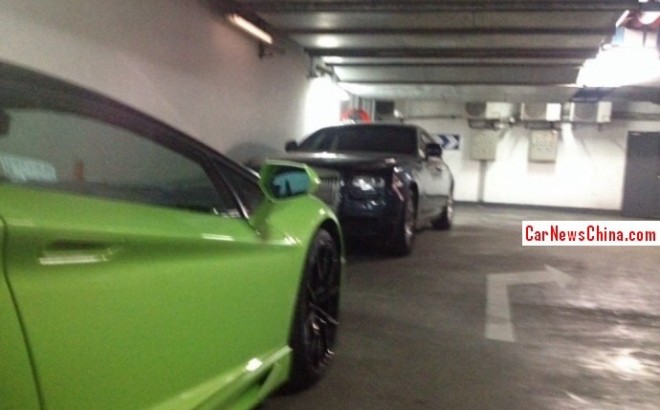 Lambo will fit under Roller, finding frogs.