A very froggy BMW 530Li, Spotted in China on a parking lot of a spa in the Fangzhuang area in Beijing. The good Bimmer was wrapped in a shiny lime green wrap, and further sexed up by a black grille, a matte black rood, shiny black mirrors, shiny black door handles matte black five-spoke alloys, and a M3 license plates.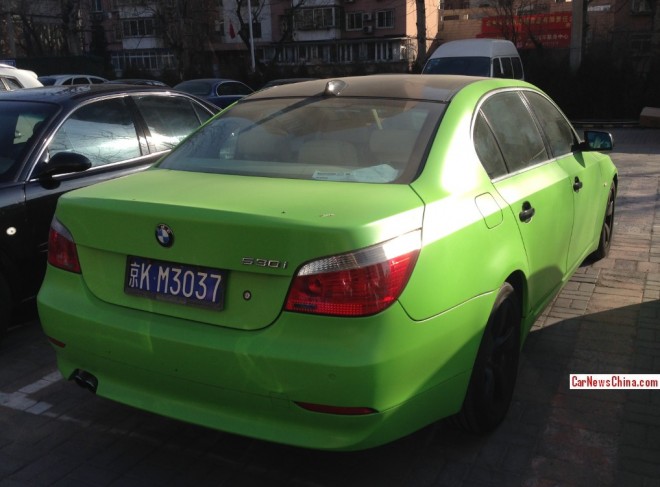 The name in Chinese and the L in 530 Li are missing. Many Chinese car buyers remove the Chinese characteristics so they can pretend driving a more expensive import.  But we don't buy! This indeed is a China-made E60 Brilliance-BMW 530Li, stretched by 12 centimeters in the middle for more space in the back.
Time now, for our Famous China-BMW 5-Series Collection™: matte black, shiny blue, Pink, bit Pink, police car, psycho purple, baby blue E60, confused 535Li, E34 lowrider, E34 540i, E34 540i no.2,and a 523Li police car.
---