A spectacular Audi A4L lowrider, Spotted in China in the great city of Dalian in Liaoning Province. The good Audi is lowered to the max, hovering the street, and further fracked up with a badass body kit, a black grille, a darkened front window, black side and rear windows, fuzzy stickers, and sporty 7-spoke matte gray alloys.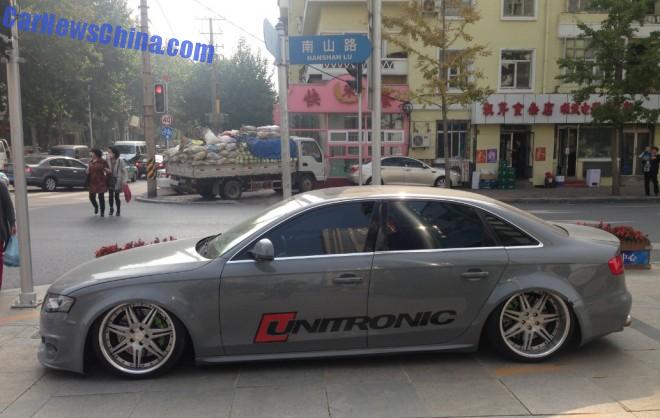 Body is painted in light gray with the mirrors and doorhandles included. Chrome strip below windows works as a border between black side windows and light gray body.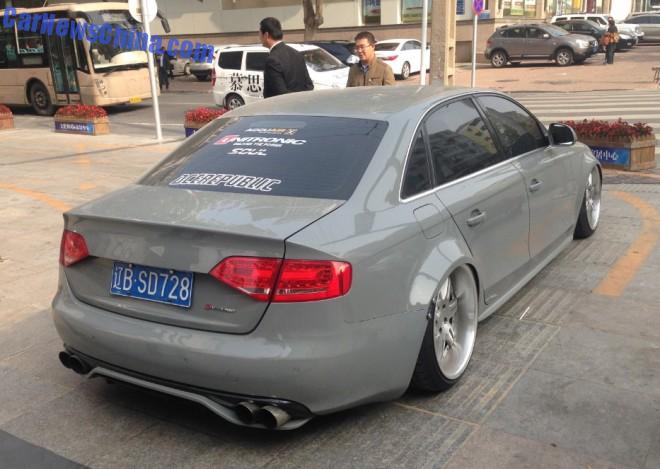 Rear bumper loox exceptionally fast. More fuzzy stickers make for more fuzzy speed!
The Audi A4L is a China-only stretched variant of the regular Audi A4. It is made in China by the FAW-Volkswagen joint venture. Price starts at 272.000 yuan and ends at 578.000 yuan. Time now for our Famous China-Audi A4L Collection™: copper brown, license (A·4L888)  double matte Pink license, matte blue green, license (4Q888), yellow, dragon, asshole, B7 in pink, lime green, baby blue, pink lowrider, red, pink, orange&black, matte-purple, polizei and fake.
Click or Die: