A beautiful black Audi A8 LWB limousine, Spotted in China in the great city of Shanghai by Reader Antoine Chalendard, thank you for the photos! The big Audi appears to be in a fine shape; paint is smooth, chrome is shiny, no cracks or bruises, and all parts seem original. It just needs a thorough clean-up, but then again, what in China does not?
The Audi V8 LWB was an official long-wheelbase variant of the mighty Type 4C Audi V8, which was built from 1988 until 1993 and based on the Type 44 C3 Audi 100/200 sedan. Manufacturing of the V8 LWB was outsourced to Steyr-Daimler-Puch in Austria, a company specialized in building low-volume special series. The wheelbase of the LWB was stretched by 31.8 centimeter compared to the regular V8, resulting in an overall length of 5190mm. The extension was located behind the C-pillar, instead of behind the B-pillar, which is the more usual way of stretching sedans.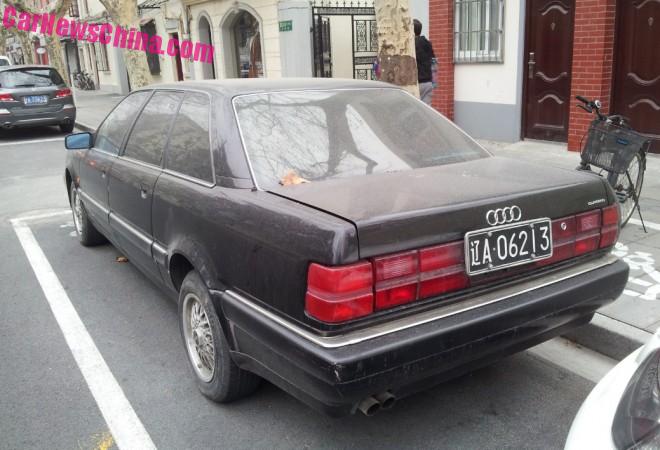 Sporty multi-spoke alloys were period-standard!
The Audi V8 LWB was never officially exported to China, so seeing one in country is an extremely rare pleasure. This particular car appears to be an ex-U.S. example, recognizable by the typical narrow license plate area, which won't fit the black Liaoning Province license plate.
China however didn't go completely without the V8 LWB. The famous Hongqi brand, a subsidiary of First Auto Works (FAW), used the design for the Century Star CA7202 E3L limousine , a stretched limousine based on the Century StarCA7202 E3 sedan, which again was based on that very same C3 Audi 100, then in production at the FAW-Volkswagen joint venture.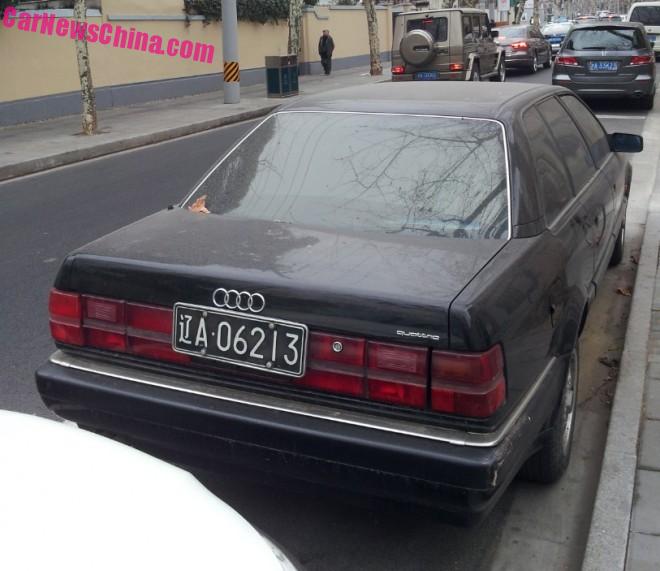 Quattro badge on the right.
The Audi V8 LWB was powered by a 4.2 liter V8 32 valve petrol engine mated to a six-speed manual or a four-speed automatic, sending power to all four wheels. Output was 276hp and 400nm, good for a top speed of 250 kilometer per hour. The manual did the 0-100 in 6.8 seconds, the automatic in 7.7, making for a mighty fast limousine!
Now, note Brabus 800 Widestar G-Class top-center, sporting a license plate reading A·500G1.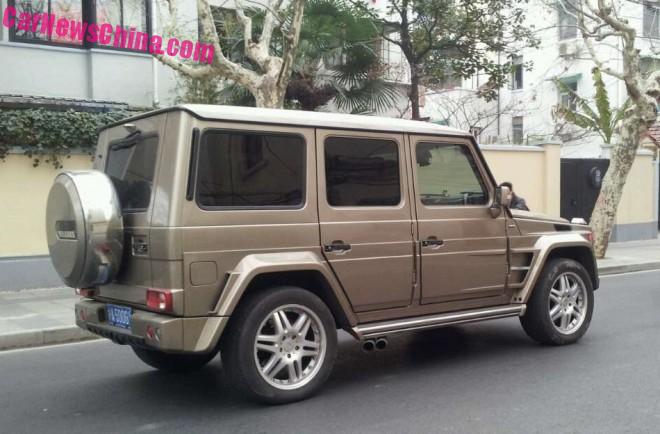 Mr. Chalendard made a run for it and snapped one more pic before the monstrous Brabus drove away, no doubt with great haste.