This is the brilliant Fuyingmen Yuedong 85, a new electric tricycle from China, seen last month on the Shandong EV Expo  (intro) in Jinan City. The vehicle is painted in a bright kinda Pink and dressed to kill with a large white basket up front, a metal mudguard, beige-orange seats, propeller-like lights, and lots of speedy decals. Yuedong means 'Happy Moving'.
Sporty hand-grips on the steering wheel. Instrument panel very basic, and the dials are on the small side. Pink rod with a ball on each side for extra structural stability. This sort of tricycles are very common in China and legal almost everywhere, including in Beijing. The vehicles are mostly driven by old folks heading to the market, but Fuyingmen is clearly trying to get a younger crown interested.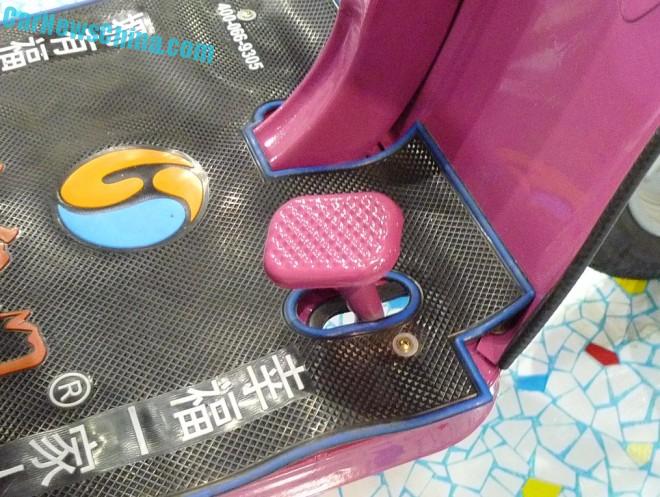 Even the accelerator is Pink! Great eye for detail; we love. The Fuyingmen Yuedong 85 is manufactured by a company called Fuyingmen Automobile Corporation (web), based on the great city of Jinan in Shandong Province, and thus standing on its home turf on the show. The company makes a wide range of electric tricycles, electric minivan-tricycles, and one very speedy petrol-powered ATV.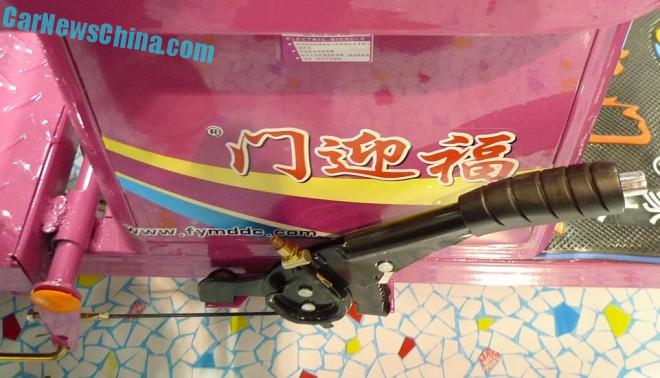 Exposed handbrake always cool. The lead-acid battery is right behind the pink panel. The Yuedong 85 is powered by a tiny 0.85Kw electric motor, hence the name. Top speed is a decent 35 kilometer per hour and range is 100 kilometer. Size: 1215/600/855. All specs as claimed by the manufacturer.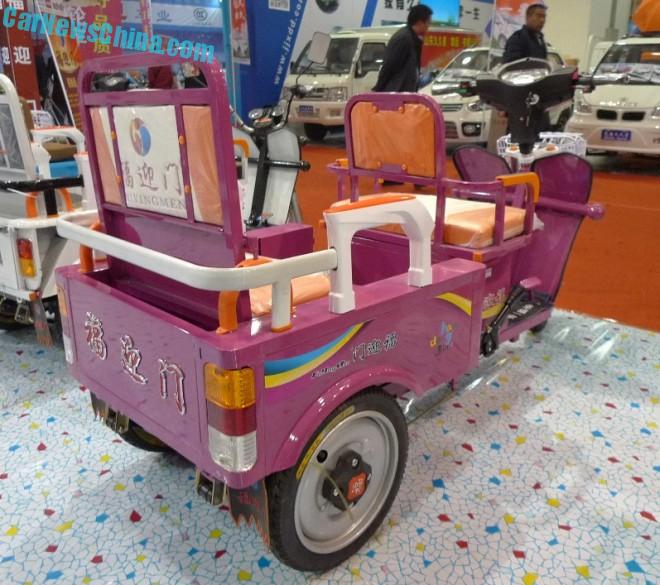 White fence with orange decoration surrounding the passenger seat. The vehicle can carry three passengers in a 1+2 configuration. Rear lights don't look like they really fir very well, but red silver-edged Fuyingmen characters on the back are really good.