A lime green Volkswagen Bora sedan, seen on the 'Car Meeting of Beijing' tuning show on the Golden Port race track in the Chinese capital. The fine Bo' painted in lime green and sexed up to the max with low-riding lowered suspension, an impressive body kit, a black grille, darkened windows, and extra large wheels with super shiny multi spoke alloys with a red hub.
But best is this sweet ensemble behind the windscreen. A pink mouse, a girl dressed in the same lime green as the car is painted in, a mouse head, and another mouse.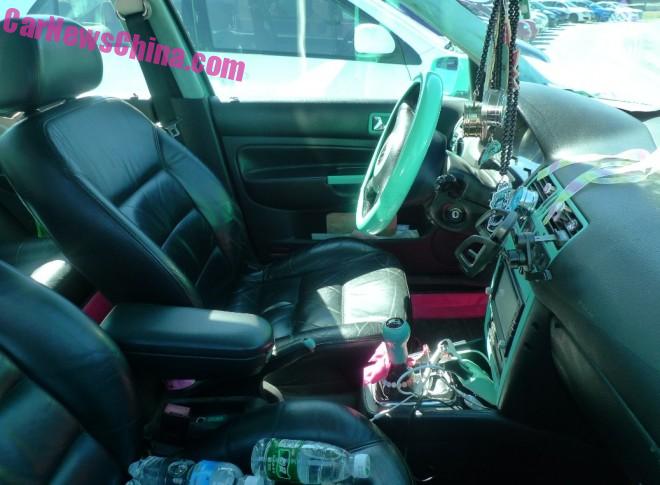 The messy interior comes with a lime green steering wheel, a lime green panel around the after-market infotainment system, lime-green panels around the center air vents, and all sorts of necklaces hanging from the rear-view mirror.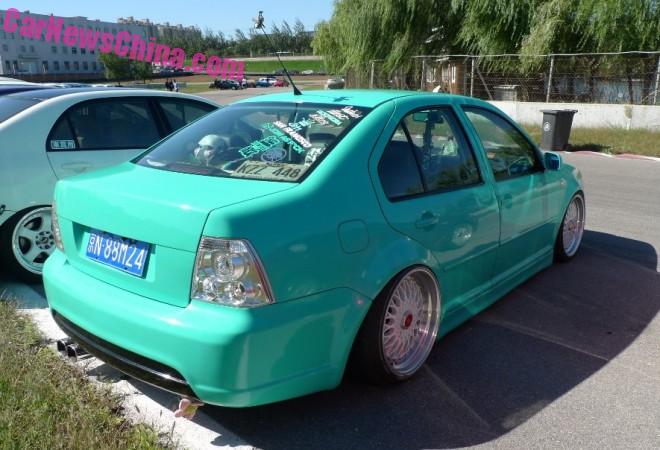 White taillight covers very cool. Lime green paint consistently applied over the bumpers, mirrors, and door handles. Window frames in black. Shiny exhaust pipes!
The first generation Chinese Volkswagen Bora was based on the second generation (A2) Volkswagen Jetta. It was made by the FAW-Volkswagen joint venture from 2002 until 2010.
Base engine was a 140hp 1.6 liter four. Not much power, so Volkswagen added the crazy China-only Bora R with 180hp, and things got even madder with the Bora-Golf. A few other modified Boraas we met: baby blue, BMW'd, pimped, white-on-white, lime-green, green bodykit, and blue.