The 25th Chengdu Auto Show will start tomorrow, on August 26. It will take place in a large exhibition hall with an area of 200,000 square meters. And now, a lot of new exciting cars were spotted arriving at the exhibition hall. We have already made a first part of our Mega Preview. And the time has come for the second one. And we will crack on with the futuristic HiPhi Z sedan.
HiPhi Z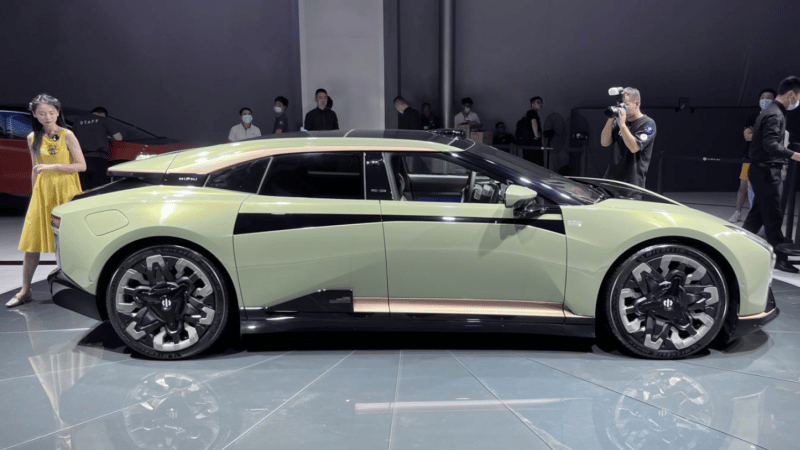 We have covered the HiPhi Z several times before. It is a high-end electric sedan from Human Horizons Technologies with a price tag between 600,000 – 800,000 RMB (87,600 – 116,800 USD). Previously, we saw the Z only with a black-blue color scheme. And now we can have a glance at a new one: green-black. This version has also got huge 22-inch wheels, and some copper-colored trim. Worth mentioning that the Z's rear wheels can counter-steer up to 13.2 degrees. It's a good looking car indeed, with wide wheel arches, a sporty rear spoiler, and an exciting LED taillight unit. Its exact dimensions are 5036/2018/1439 mm with a wheelbase of 3150 mm. It has a total of 34 sensors for autonomous driving, including the LiDAR on the roof.
Chery QQ Ice Cream Queen Space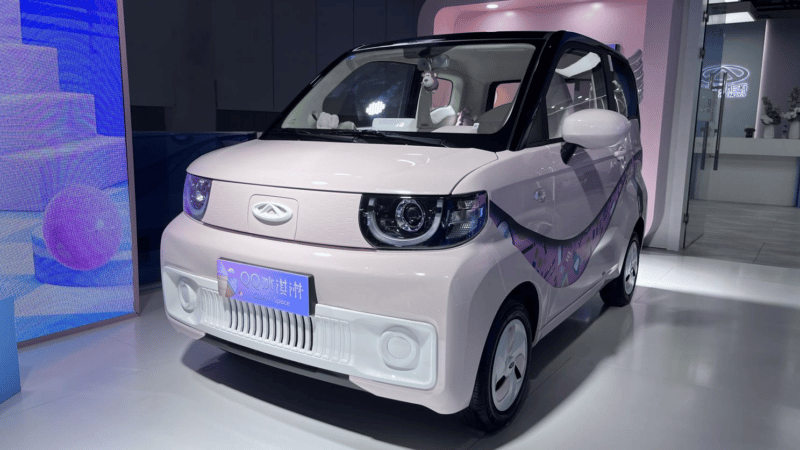 And now, let's move on from the luxurious HiPhi Z to the quirky but cute Chery QQ Ice Cream Queen Space. It is a special version of a fully electric city car, aimed at female customers. It can be distinguished by a quirky exterior with lipstick stickers and little wings on the car's body. The interior of the QQ Ice Cream Queen Space is pink with a sporty steering wheel, soft floor mats, and a makeup box instead of the passenger seat.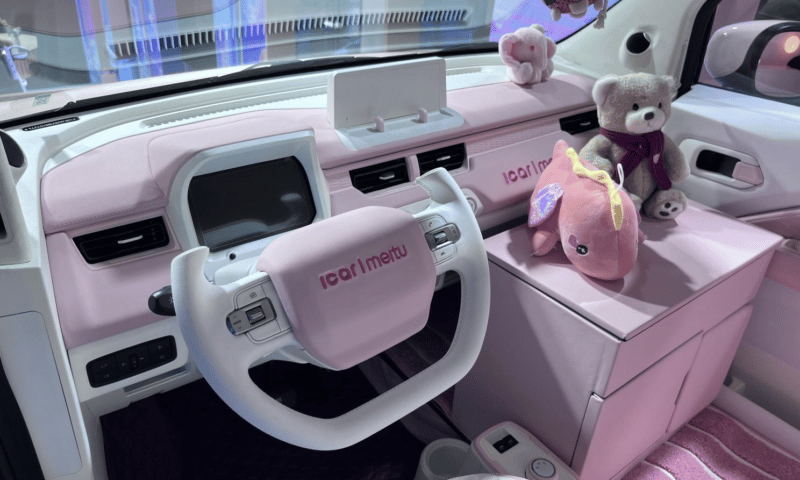 It looks like the QQ Ice Cream Queen Space won't really hit the market and it is just an Auto Show car. We will remind you that the mass-production version of this vehicle got dimensions of 2980/1496/1637 mm with a wheelbase of 1960 mm. It has a single electric motor on the rear axle for 27 horses. It has also got two optional batteries for 9.6 and 13.9 kWh (120-170 km NEDC).
Chery Tiggo 7 Plus New Energy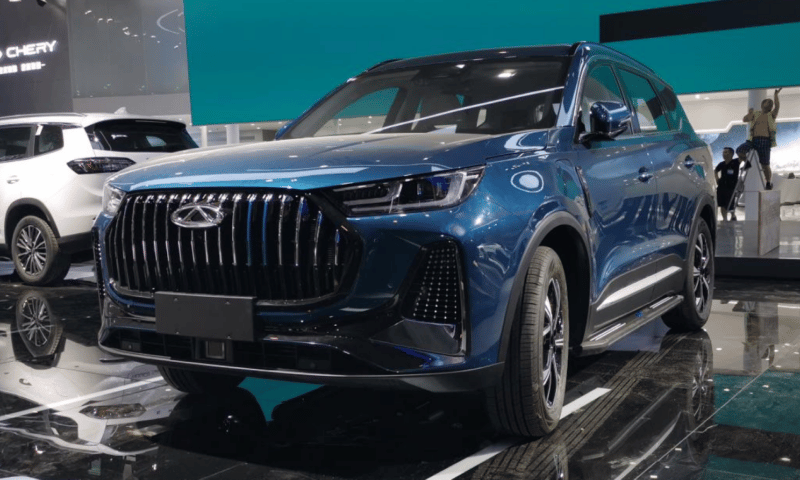 The Chery Tiggo 7 Plus is a mainstream C-SUV with dimensions of 4500/1842/1705 mm. And now Chery has unveiled its PHEV version. It got a new powertrain and styling. Its exterior has gained a large grille with vertical slats and headlights from the Tiggo 8 Plus, another Chery crossover. The power plant will be the same as the Exeed LX ET-i and Tiggo 8 Plus e +. It has a 1.5-liter internal combustion engine and two electric motors. Their combined power output reaches 326 hp and 565 Nm. Most likely, tomorrow we will get a detailed information about this SUV.
Lynk & Co 01 EM-P (PHEV)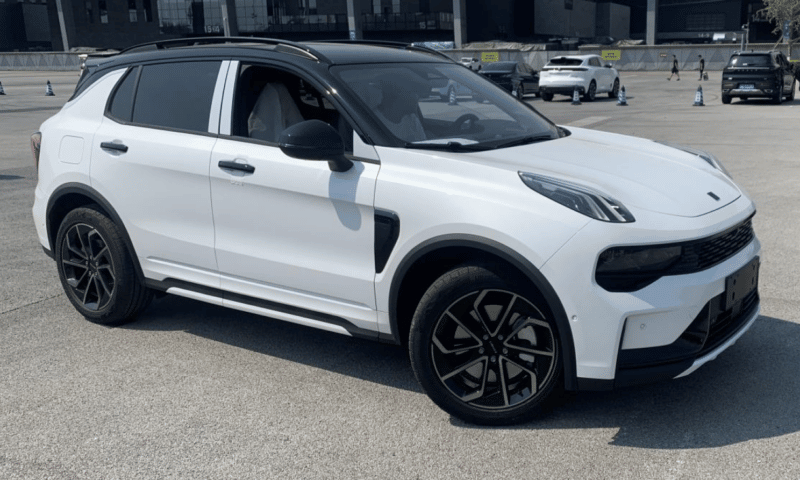 The Lynk & Co 01 EM-P is a compact crossover that will be launched on August 26. Now let's take a through look on it. Its appearance stays in line with the Lynk & Co family-design language. It will be a plug-in hybrid SUV with a 1.5-liter turbocharged petrol engine for 150 hp. As for the combined output of the hybrid system, it is yet to be known. The dimensions of the 01 EM-P are 4549/1860/1689 mm with a wheelbase of 2734 mm. Its interior got a larger screen.
Tank 300 HEV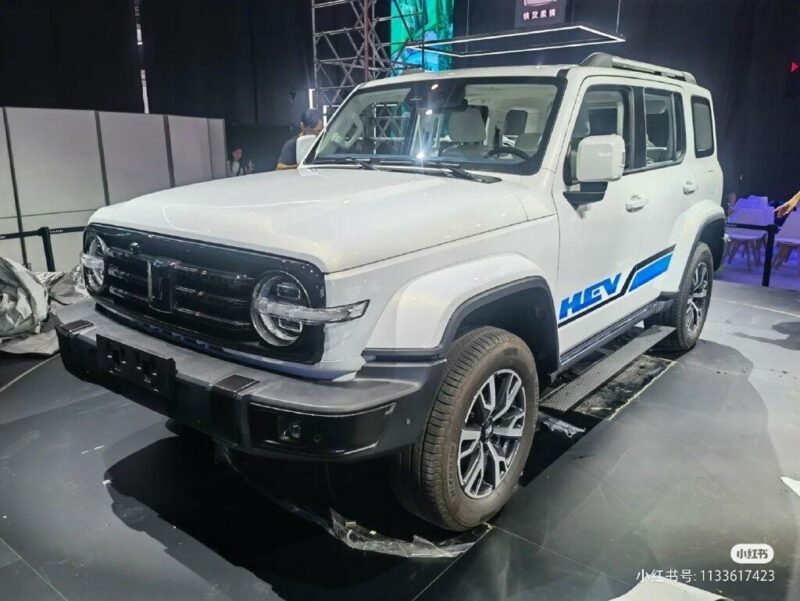 The Tank 300 is an off-road body-on-frame SUV from Great Wall Motors. Its petrol version hit the market last year. It comprises a 2.0-liter engine for 227 hp and 387 Nm. Now the Tank 300 HEV made it to the Chengdu Auto Show. It will comprise a 2-liter ICE for 245 hp and an electric motor. The system's output will reach 305 horses and 640 Nm. With it on board, the Tank 300 HWV will be able to speed up from 0 to 100 km/h in less than 9 seconds. Still slow, but better than the petrol version with the 9.5-second zero-to-hundred acceleration.