The HiPhi Y prices were unveiled in China just after the Nio E6 NT2 was launched. It has appeared that the starting price of the Y will be just 1,000 RMB (140 USD) higher than the ES6 NT2. The entry-level HiPhi Y has up to 560 km of range, 336 hp and a starting price of 369,000 RMB (52,175 USD). Moreover, its appearance is outrageous, with gull-wing doors.
HiPhi acquaintance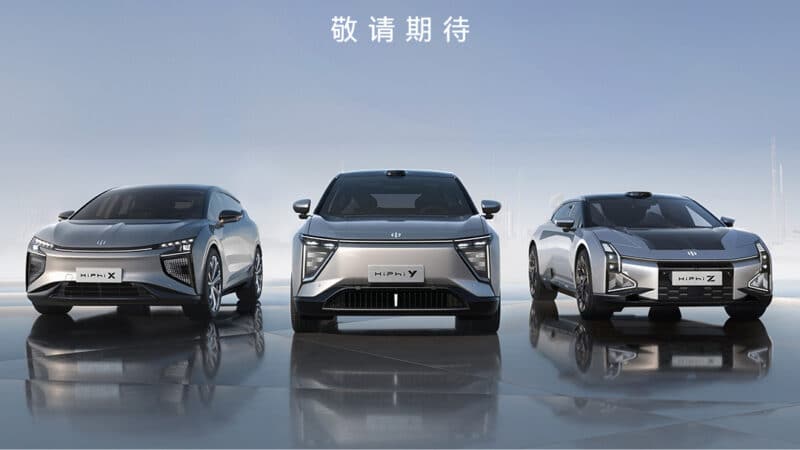 HiPhi is a luxury EV brand under the Human Horizons Company, launched in 2019. Aside from the HiPhi Y, its model line comprises two seemingly more expensive models: HiPhi X CUV and HiPhi Z sedan. They start from 500,000 RMB (70,700 USD). We should also mention that the Kia-Yueda factory is responsible for the manufacturing of all HiPhi cars.
Last year, HiPhi dominated the all-electric high-end car segment. However, in 2023, its sales declined. For an example, in February this year, HiPhi X sales dropped to 77 units (from 526 in February 2022). Currently, HiPhi has ceased to report its sales data, which is a bad sign. It looks like HiPhi desperately needs a new more affordable model which will attract customer's attention and will fit the mass-market segment. And it is the HiPhi Y.
Basic information about HiPhi Y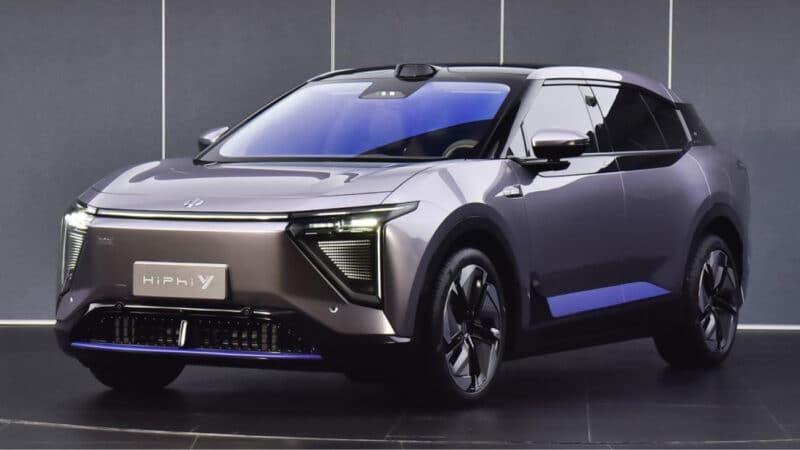 The HiPhi Y is a mid-size SUV with five seats and a daring design. Its front end has huge LED running lights that can project images. There is also a thin LED strip that connects the Y's headlights together. The HiPhi Y hasn't got door handles. Instead, it has a set of buttons on the B-pillar. Its doors are equipped with a self-opening mechanism.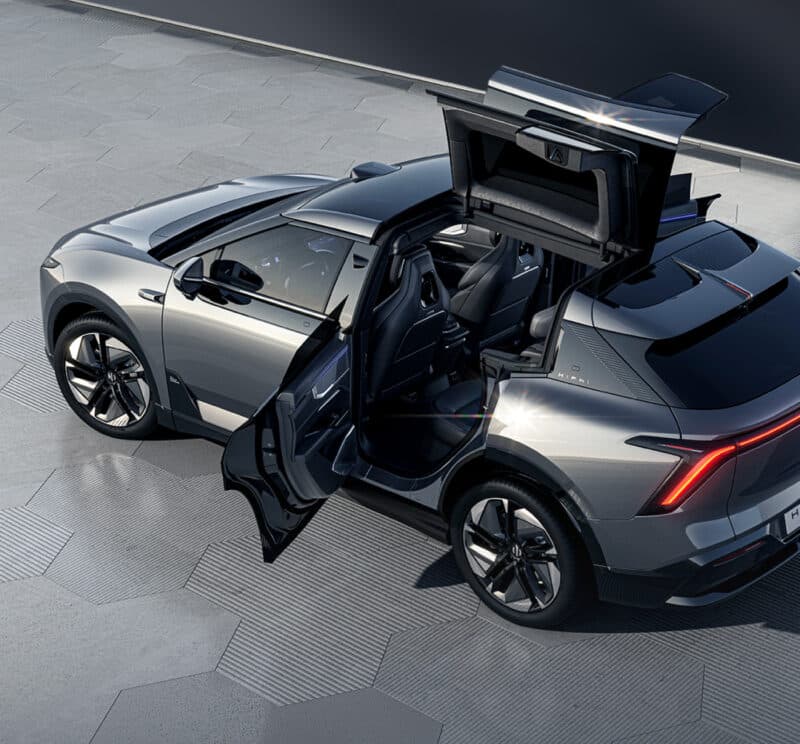 And, as we have reached doors, they are the main feature of the HiPhi Y. In fact, we are talking about its rear doors. They are divided into two segments. The first is a normal-opening door. And the upper one is a gull-wing door.
In terms of size, the HiPhi Y's dimensions are 4938/1958/1658 mm with a wheelbase of 2950 mm. So, it is 84 mm longer, 27 mm thinner and 45 mm lower than the recently launched Nio ES6 NT2. So it is a pretty big vehicle. However, it has only five seats inside. It seems that HiPhi didn't want to create a rivalry between the HiPhi Y and the more expensive HiPhi X.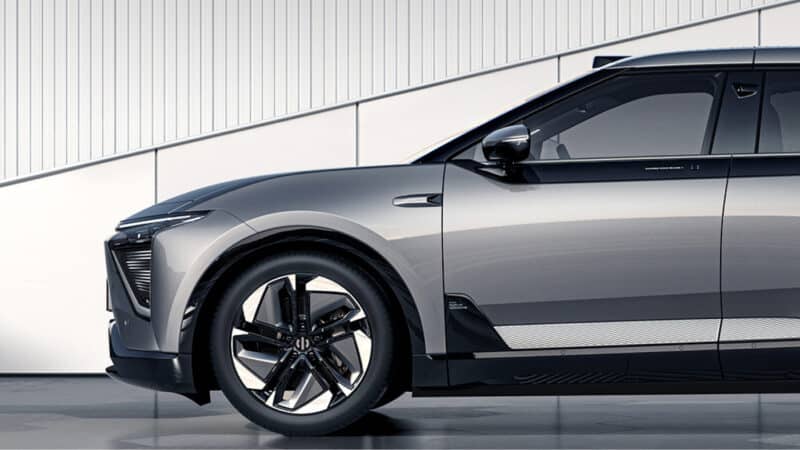 Now, let's talk about the powertrain of the HiPhi Y. Its entry-level model is equipped with a single electric motor for 336 hp, mounted on the rear axle. The FinDream's (BYD subsidiary) LFP Blade battery for 76.6 kWh powers this e-motor. As a result, the HiPhi Y has up to 560 km of range. The RWD model can also have the ternary (NMC) battery for 115 kWh from CATL. With it on board, the Y can run up to 810 km on a single charge. The same battery is available for the 4WD model with 504 hp, good for 765 km of range.
HiPhi Y prices and deliveries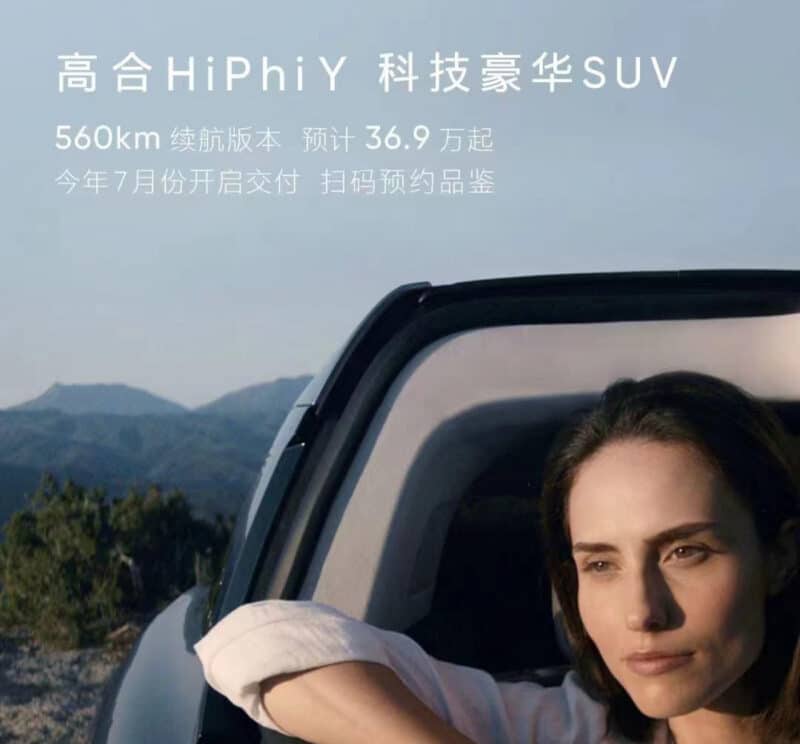 The HiPhi Y entry-level version is the only version that's price tag was disclosed. It has appeared that the HiPhi Y starting price is 369,000 RMB (52,175 USD). Later, two more versions will be available for purchase. HiPhi has also shared that the deliveries of the Y will start in July this year. It means that they will soon open the reservations for it.
Editor's comment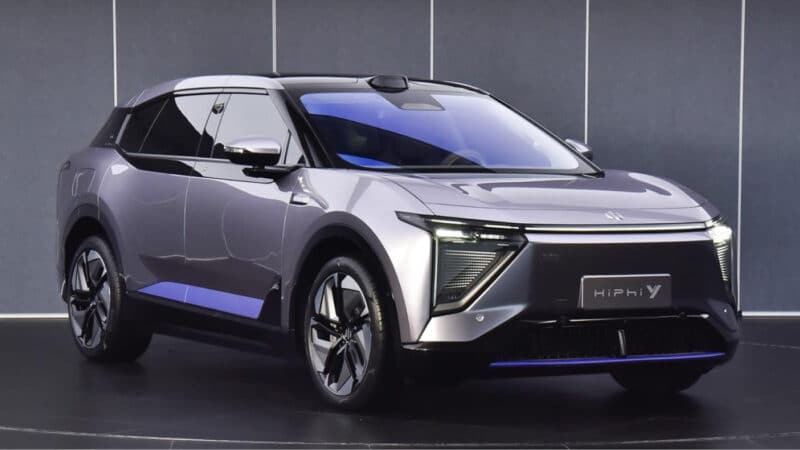 Can HiPhi Y really fight Nio ES6 NT2? We won't speak about the exterior design here because it is highly subjective. Instead, let's speak about numbers. These vehicles stay really close in terms of pricing and dimensions. But the entry level Nio ES6 got 4WD and 482 hp, while the HiPhi Y can offer only RWD and 336 horses. Because it has a single motor, the Y's driving range is more that the ES6's with an entry-level battery. But we should keep in mind that Nio has the battery swap infrastructure. It allows users to enjoy their rides without tight bindings to the range or battery charging time. Moreover, it lets customers to buy Nio cars without battery, saving a solid amount of money. For an example, the entry level ES6 NT2 without battery costs 289,000 RMB (40,850 USD), 80,000 RMB (11,300 USD) less than the HiPhi Y base spec.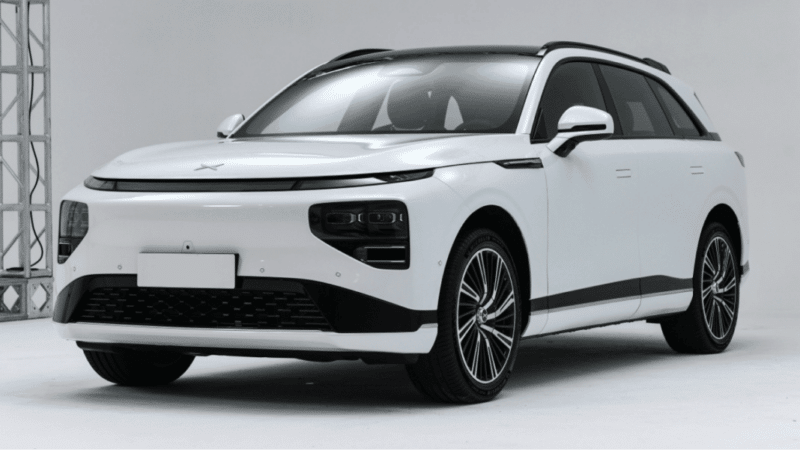 So the Y, in fact, hasn't got many benefits, comparing to the Nio ES6. Moreover, Nio has already gained the brand power in China, while HiPhi still is a niche brand that is quite unrecognizable. Aside from the ES6, Y has quite a lot of competitors, including the Xpeng G9, Cadillac Lyriq, Avatr 11, Denza N7, etc.
We will also remind you that HiPhi will enter Europe in 2024 with two models: HiPhi X and HiPhi Z. Later, the HiPhi Y will also join them here.
Source: HiPhi Weibo, Autohome