A sleek silver Mercedes-Benz C63 AMG sedan, seen on the Beijing Tuning Street here in the Capital. Its license plate reads 00763 and that is one of the best license plates we have seen on a C63 AMG in China so far. The vehicle furthermore stands out of the crowd by having two different sets of alloys, like in DTM racing. Up front it has shiny ten-spoke alloys, and at the back matte gray 5-spokes.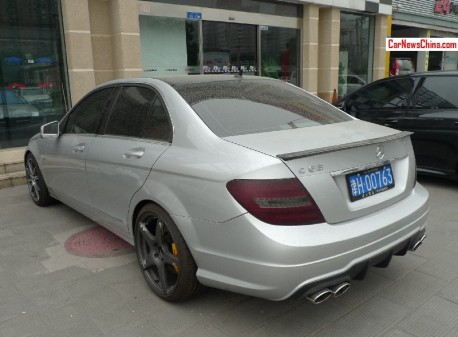 The tire size seems the same, and the brakes are all yellow. The rear lights are covered with a dark film and the rear spoiler, far too small for an AMG!, is painted in black. Great car, approved! The Mercedes C63 AMG is powered by a 6.2 liter V8 that poops out 460hp and 600nm, price in China is 998.000 yuan or 161.800 USD. Very expensive indeed, but speed: 0-100 is gone in 4.4 seconds and top speed is 280km/h.
Here is our Famous China-Mercedes-Benz C63 AMG sedan Collection™: license (8L563),  light-matte yellow, shiny purple, purple with babe, license, black with a license, matte black, Bling, in purple, in matte-purple, Wald Black Bison, Renntech C74 and in pink.