A beautiful Buick Regal, seen on the Wufang Tianya Automobile Parts City in east Beijing. The fine vehicle was wrapped in a matte blue wrap, and further sexed up by tiger-print wrapped mirrors, black windows, and fantastic seven-spoke alloys in matte gold.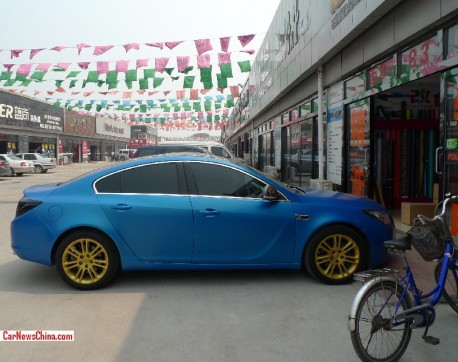 The wrap was of the highest quality and was neatly applied over the bumpers. The chrome around the windows works wonder well as a sorta border between the matte blue body and the black windows. The Buick's blue almost matches with the bicycle's blue. Almost.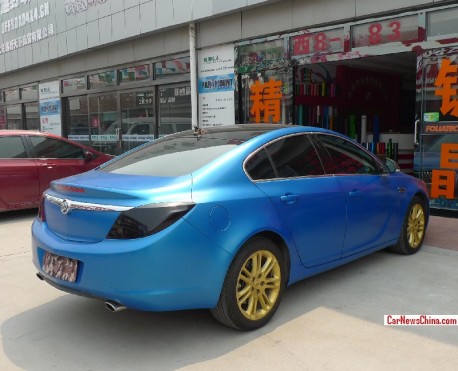 Black rear lights and an extra fat chrome strip between the lights finish the job at the back. License plate is covered with camouflage cloth. That is forbidden, bad owner!
The Buick Regal is made in China by the by the Shanghai-GM joint venture. Price starts at 185.900 yuan and ends at 283.900 yuan. Engines: 180hp 1.6 turbo, 147hp 2.0, 220hp 2.0 turbo (in the Chinese Regal GS), and a 186hp 2.4. A facelifted version is on the way.
The Regal is a very popular car for customizing. Here is our Famous China-Buick Regal Collection™: matte orange, Pink, matte black, Expo 2010 Edition, lime-green,  matte purple & silver, pink and silver, a pirate, an orange taxi, and all-silver.