The very first Ferrari LaFerrari in China, spotted in the great city of Shenzhen in Guangdong Province by Liam for Autogespot.com, thank you for the pictures! The LaFerrari debuted in China on the 2013 Shanghai Auto Show but was strangely never officially launched on the Chinese supercar market.
Ferrari says all cars have been sold, and we must assume some have gone to China, so maybe they were sold off-market in some misty way. During its debut in Shanghai rumors said price would be at least 10 million yuan or 1.6 million USD. This thus has never been confirmed as there is simply no price without a launch.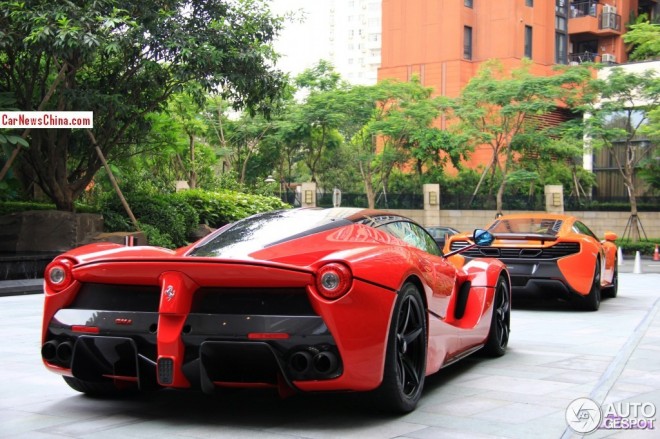 With a McLaren MP4-12C. The LaFerrari is powered by a 950hp hybrid powertrain based around a screaming 6.3 liter V12, making it the fastest supercar currently on the planet.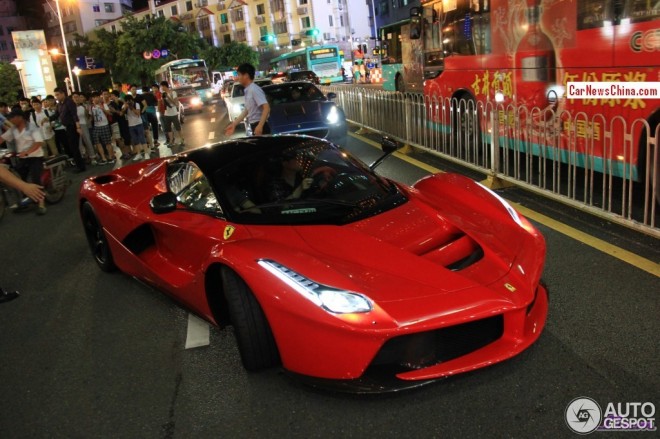 Later that day Liam met the LaFerrari again, this time on the road, followed by a California.
The red monster is the tenth spot coming from our new joint-spot-operation with AutoGespot.com, the largest car-spotting website in the universe. Earlier on we had: Pink Maserati, BAPE SLS, Ferrari double, weird Gallardo, Ferrari 575M Superamaricana,  DMC Aventador, Porsche Carrera GT, Pagani Zonda Cinque and a matte black Bentley. Much more on the way…