A very kinky Lamborghini Gallardo LP570-4 Spyder Performante, Spotted in China in central Beijing by spotter Marvin-01, thank you for the pictures! The good Gallardo was wrapped in a matte purple wrap and a shiny green wrap, with some parts of the wrap mixing and switching these colors. Roof is in standard black. Alloys are standard matte black. Brake pads are standard orange. When new, this fine super car probably looked more like this.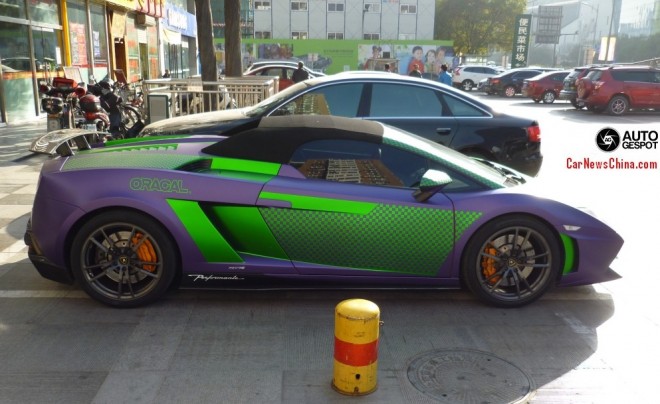 The wrapping artists clearly did a lot of thinking here. See for example the shiny green strip surrounding the matte purple door handle. Or the matte purple floor of the main air vent, flanked by shiny green. Or the shiny green air vent in front of the front wheel, sitting lonely in a sea of matte purple. Or the matte purple shiny green window frame. It just doesn't stop. Truly brilliant wrapping work.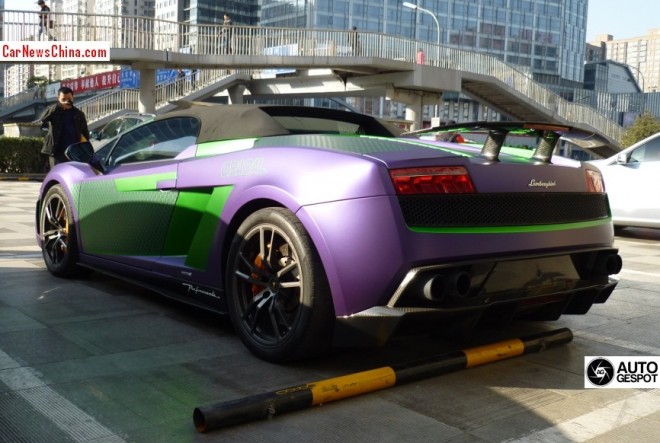 Subtle shiny green strip over matte blue back.
The 2010  LP570-4 Spyder Performante was the a convertible version of the LP 570-4 Superleggera, a super hardcore variant of the Gallardo. Power came from a 5.2 liter V12 with a screaming 562 hp and 549nm, good for a 320 kph top speed and a 3.0 seconds 0-100. Speed Purple-Green!
Time now, for  our Extremely Famous® China-Lamborghini Gallardo Collection™: with FF, crash, galaxy, baby blue, with hottie, crash, Sesto Elemento R/C, orange, yellow, crash, orange with Mac, tree-crash, matte black, license plate, pink, Balboni, LP550-2 GZ8 Edizione Limitata, shiny green, chrome, Reventon, crash, GZ8 Edizione Limitata, shiny-blue, matte-black & orange, water melon, red wheels,  HK20, pink, matte-black, gold, pink, another pink, lime-green, in gold, one purple, another purple, Gold Edition, and a Spyder Performante.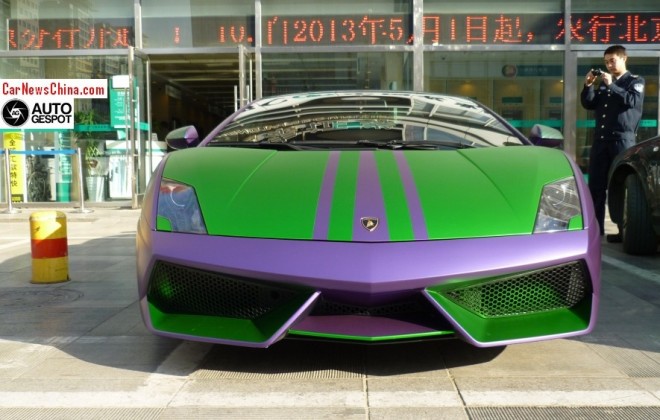 This lunatic Lambo is the sixth spot coming from our new joint-spot-operation with AutoGespot.com, the largest car-spotting website in the universe. Earlier on we had a Ferrari 575M Superamaricana,  DMC Aventador, a Porsche Carrera GT, a Pagani Zonda Cinque and a matte black Bentley. Much more on the way…
---