A very happy Audi TT, Spotted in China in the great city of Shanghai by Reader Anonymous, thank you for the pictures! The good Audi is wrapped in an eye murdering shiny blue wrap, and further dressed up with sporty 7-14 spoke matte gray alloys, darkened side windows, and a shiny chromed fuel filler cap.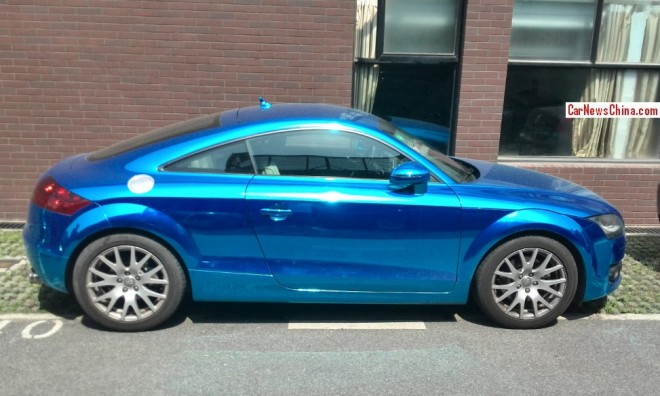 The wrap seems to be of high quality and neatly extends over the bumpers, door handles, and mirrors, like we like to see it best. Note the fuel cap. Darkened side windows great for contrast with shiny blue body.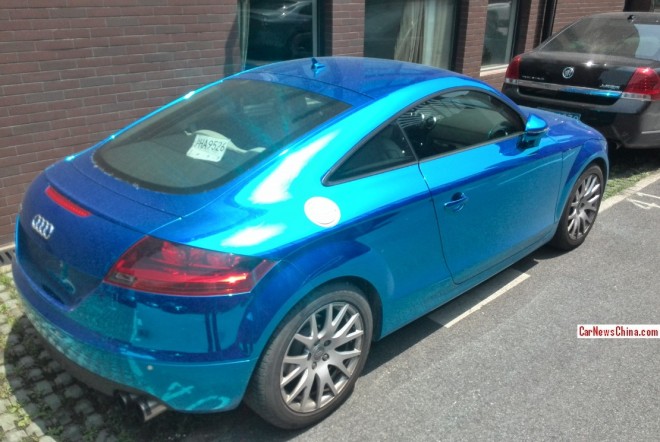 Note temporarily license plate behind the rear window, this is a brand new car. We are suddenly seeing shiploads of  fresh TT on the roads, likely because dealers are dumping them as the all-new 2015 Audi TT will arrive in China soon. Official price of the current car starts at 519.000 yuan and ends at 592.000 yuan.
Time now, for our Famous China Audi TT Collection™: matte blue TTS, orange license, Pink, license (7TT70), Pink, girls & Lambo-doors, pink-orange, gray-blue, red R8, big wing, kiddie ride, gold, children, orange, with tree, pink, and purple.