A super sonic Ferrari LaFerrari supercar, Spotted in China in the great city of Shanghai by Reader Antoine Chalendard, thank you for the photos! The speedy Italian is painted in fiery red with black roof and red mirrors, black alloys and red calipers. Under the windshield wiper sits a ticket, likely for parking on the wrong spot. Nobody is safe for the Shanghai traffic police!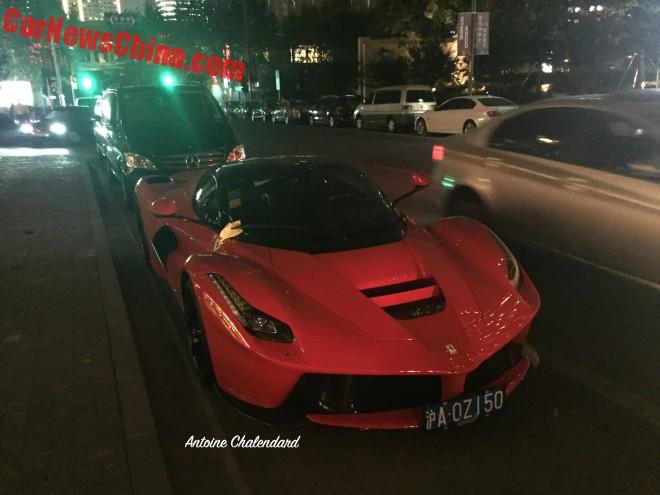 The license plate, which seems quite old, is bolted on the front lip. That will certainly destroy a lot of those fancy pansy aero effects. But where else to put it..?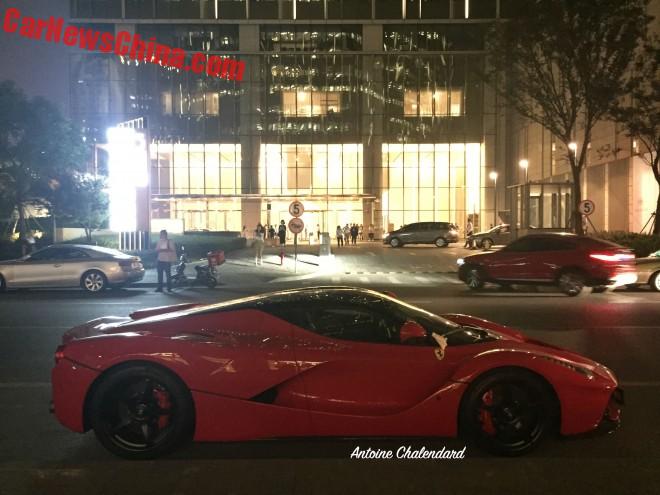 Red Ferrari in a sea of yellow light.
This is the eight LaFerrari in China we know about; after one in Hangzhou, one crashed in Shanghai, one red in Guangzhou, one in Chengdu, a double in Shanghai, one in Beijing, and a first in Shenzhen. When still available, the LaFerrari went for an astonishing 22.5 million yuan or 3.67 million USD.
The LaFerrari is powered by a hybrid powertrain consisting of a screaming 6.3 liter V12 connected to a F1-style KERS system. Total output is 950hp and 900nm. Top speed is 350km/h and 0-100 is gone in 2.7 seconds.
Interestingly, nobody seems to care much about the Italian speedmachine, Mr. Chalendard had her all for himself. The fine people of Shanghai likely see just too many supercars a day to give a sheepshit anymore.