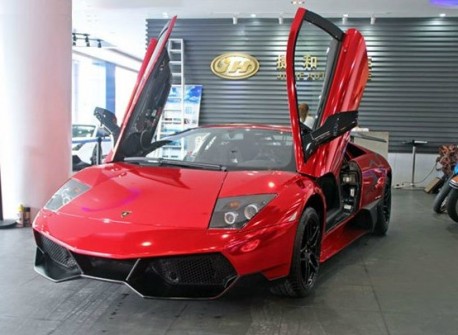 A lunatic Lamborghini Murcielago SV supercar wrapped in shiny red for extra visibility. This fast Lambo was seen at a second hand dealer in the great city of Guangzhou, priced at a rather sick 5.1 million yuan, or 818.000 USD! It has 79.000 km on the clock and was registered new in China in April 2011. Come pay…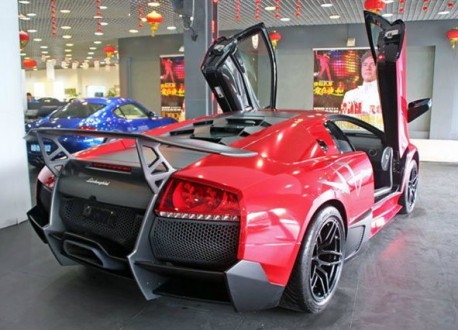 Look at that brilliant body work at the back! Shiny red wraps are becoming popular in China, we dig. Earlier on we met a Ferrari F430 and a Ferrari 612 in the same color. The Lamborghini Murcielago was made from 2001 until 2010. The SV arrived in 2009 and was limited to only 350 examples, this Guangzhou car is number 47. The LP670-4 SV is powered by a 6.5 liter V12 that poops out 670hp and 660nm. Weight was reduced by 100kg. Top speed was 336km/h with the Aeropack wing as fitted here, or 343km/h with an optional smaller wing.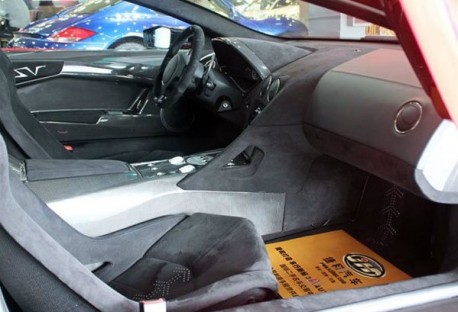 The Lamborghini Murcielago was a mighty popular supercar in China. Our collection: with FF, China Limited SV,  matte black SV, roadster in gold, an expensive toy, SV in black, gray, SV in yellow, lime-green, chrome, Versace Edition, SV crash, LP650-4 Roadster, and another SV in yellow.