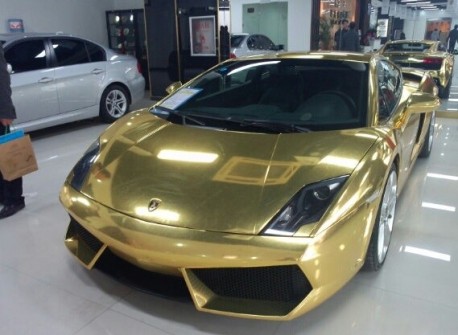 Early afternoon in Beijing, it just stopped snowing bit the sky is still very gray. We need some Bling to chase the clouds away! Fortunately we have, in the form of this golden Lamborghini Gallardo LP 560-4, seen in a second hand car shop in the great city of Zhengzhou in Henan Province.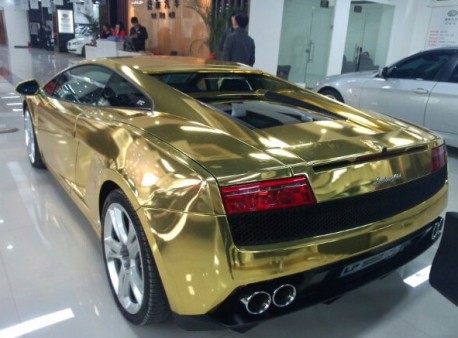 The Gallardo loox brilliant in gold, the wrap is of very high quality and neatly applied over the bumpers and mirrors. Normally gold and silver don't combine very well but check those exhaust pipes, just as shiny as the gold and therefore a perfect match.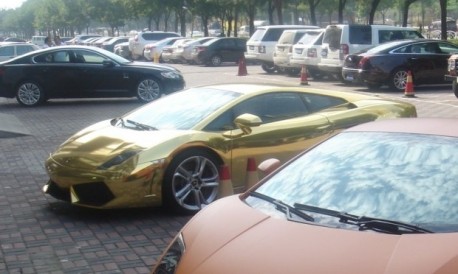 Earlier pic of the same vehicle parked in front of the shop, next to an orange Gallardo. Well now, time for our China-Lamborghini Gallardo Collection™: Superleggera, crash, orange with Mac, tree-crash, matte black, license plate, pink, Balboni, LP550-2 GZ8 Edizione Limitata, : shiny green, chrome, Reventon, crash, GZ8 Edizione Limitata, shiny-blue, matte-black & orange, water melon, red wheels,  HK20, pink, matte-black, gold, pink, another pink, lime-green, in gold, one purple, another purple, Gold Edition, and a Spyder Performante.