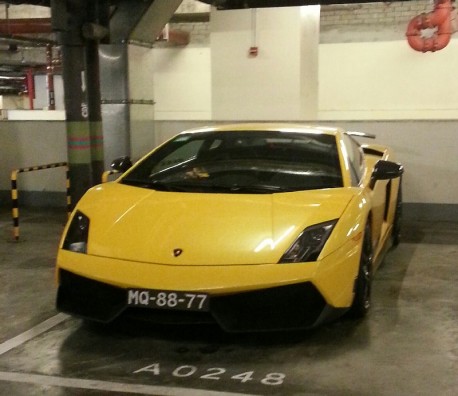 A mellow yellow Lamborghini Gallardo LP 570-4 Superleggera seen in an underground parking lot in the great city of Macau by reader L!no@Macau, thank you for the pictures! The LP 570-4 Superleggera debuted in 2010, lighter and faster than the regular Gallardo; weight is only 1340kg and the 5.2 liter V10 poops out 562hp, together good for an impressive 325km/h top speed.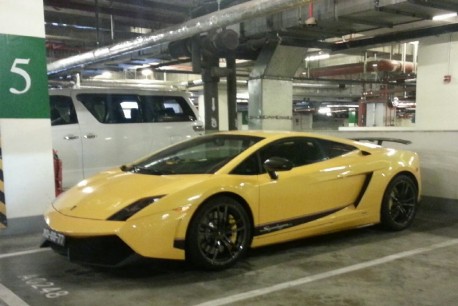 Sadly, top speed in Macau City is only 60km/h, top speed on the the two main bridges is 80km/h, and that's it. Macau is truly a small city and it is hard to image anything could go any faster than 80, without ending up in the sea. 325-80=245 to go… Fortunately owners of supercars in Macau usually know their way into China where they can do speedruns on the endless new highways.
Our Famous China-Lamborghini Gallardo Collection™: crash, orange with Mac, tree-crash, matte black, license plate, pink, Balboni, LP550-2 GZ8 Edizione Limitata, : shiny green, chrome, Reventon, crash, GZ8 Edizione Limitata, shiny-blue, matte-black & orange, water melon, red wheels,  HK20, pink, matte-black, gold, pink, another pink, lime-green, in gold, one purple, another purple, Gold Edition, and a Spyder Performante.