A wondrous white Mercedes-Benz C63 AMG sedan, seen on the Beijing Tuning Street here in the Capital. The vehicle was painted in a beautiful not-shiny not-matte kinda white, and fitted with hugely wide tires and racy matte gray 5-spoke alloys. The best thing however, was the grille: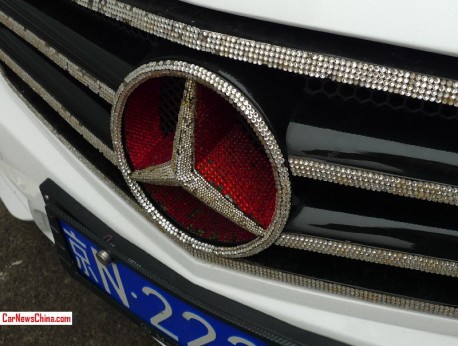 The vertical bars and the Benz logo are all covered with fake crystals made of plastic. But shiny. The inner sections of the logo are covered with fake crystals made of plastic painted in red. Very good work!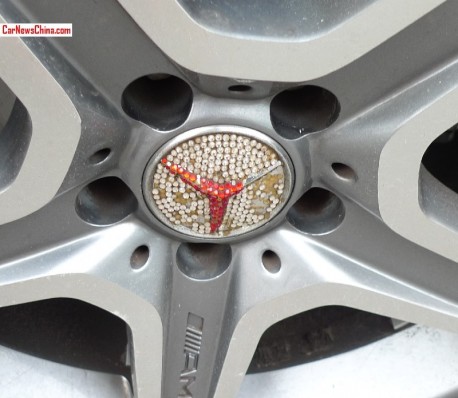 The fun continues at the alloys with the Benz logo covered with white and red fake crystals. Quality of the glue seems so so, a many crystals already fell off the wheel.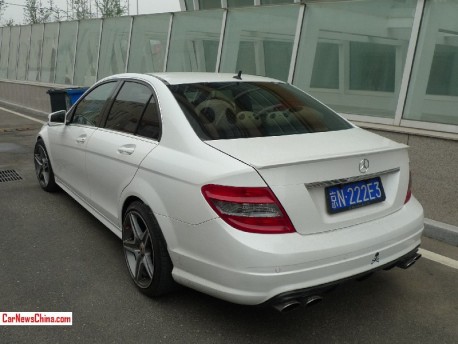 The logo at the back was left alone.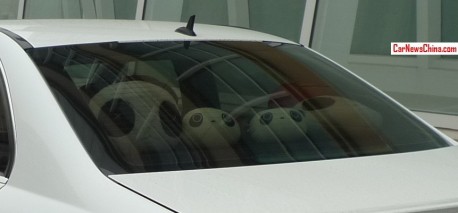 But the rear window was not. Four cartoon-ish Panda bears looking out over the road just traveled. The animals limit visibility, but on the other hand, who needs to look back with a 6.2 liter V8 with460hp and 600nm under the bonnet? Nobody.
Time now for our Famous China-Mercedes-Benz C63 AMG sedan Collection™: license & alloys, license (8L563),  light-matte yellow, shiny purple, purple with babe, license, black with a license, matte black, Bling, in purple, in matte-purple, Wald Black Bison, Renntech C74 and in pink.