A wondrous white BMW M3 Coupe, seen on the Beijing Tuning Street here in the Capital. The speedy Bimmer was made even faster by an interesting double wing in DTM style. Other prettifications include darkened windows, a black grille, and fantastically racy 10-spoke matte black alloys.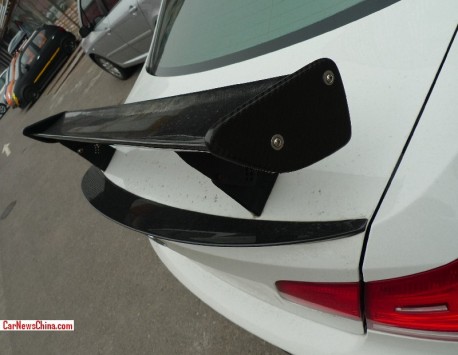 The double wing consists of one lip directly on the boot lid and a much larger adjustable example hovering in the air. The combination allows a different set-up for each different track.
When it comes to road use a different set-up per different highway, or stretch of highway, is imaginable. The Badaling Highway for example, going to the Great Wall, is very flat until the last 15 kilometer or so, when the roads suddenly goes up mountain in a whirlwind of corners.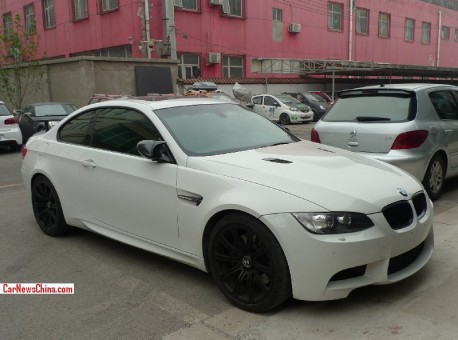 The E92 BMW M3 Coupe is powered by a bonking 4.0 V8 with 414hp and 400nm, good for a delimited top speed of some 285km/h and a 0-100 in 4.8 seconds.
The M3 is a very popular sportscar in China. Time now, for our Famous China-BMW M3 Collection™: licensed E93 Convertible (522M3), E46, matte dark blue, shiny green, with hot redhead, with friends at the karaoke bar, Bling, license (M3246), body kit,  license (908M3), mint green, baby blue, E46 Convertible, Bling Convertible, shiny blue, matte black, and completely mad.