A speedy white E93 BMW M3 Convertible, seen on a dusty day in central Beijing. The license plate reads 522M3, and that is the best license plate we have seen on a BMW M3 in China so far. The good vehicle was further speeded up by racy ten-spoke alloys painted as matte gray as the sky.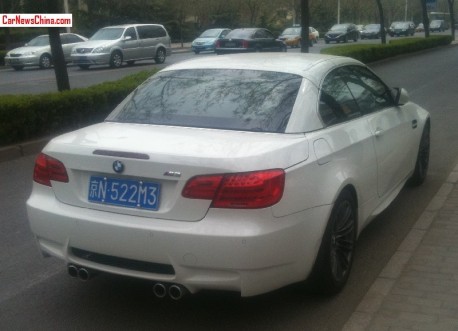 The E93 Convertible was powered by a fatass 4.0 V8 with 414hp and 400nm, good for a delimited top speed of some 280km/h, and 0-100 is gone in only 4.9 seconds.
Time now, for our Famous China-BMW M3 Collection™: E46, matte dark blue, shiny green, with hot redhead, with friends at the karaoke bar, Bling, license (M3246), body kit,  license (908M3), mint green, baby blue, E46 Convertible, Bling Convertible, shiny blue, matte black, and completely mad.