Avery classy W126 Mercedes-Benz 500 SEL stretched limousine, seen in the great city of Chengdu in Sichuan Province where it can be hired as a wedding car, pink decorations included. The body work is extended by at least 1.5 meters in the middle, making for a big barge of a Benz.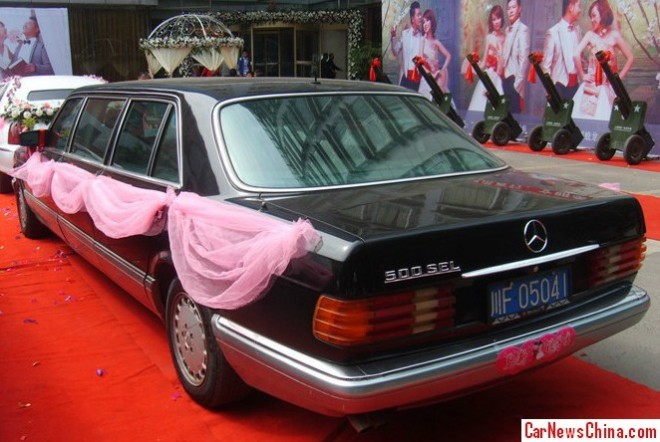 Note firework-guns on the right, they can be hired for weddings too. Firework-guns are very popular on Chinese weddings for banging the angry spirits away from the happy couple. These particular guns are actually rather small, China got 'em much bigger than that.
The W126 Mercedes-Benz S-Class was manufactured from 1979 until 1992. The 500 SEL was powered by a 5.0 V8 engines with 261hp and 401nm. That is still more than enough to speed up this stretchy for a very fast wedding…
Time now, for our Famous China-W126 Mercedes-Benz S-Class Collection™: 560 SEL in black, abandoned, chery red, US-spec 560 SEL, sporty 560 SEL, S280, really stretched, 500 SEL, 300SE, and another abandoned.