A very mighty and very black Cadillac Fleetwood limousine, Spotted in China on the Wufang Tianya Automobile Parts City, parked very close to a W140 Mercedes-Benz S600. The giant American limousine was dusty 'n dirty but otherwise in very good shape. No bruises and no rust, the chrome was still shiny, and the alloys undamaged.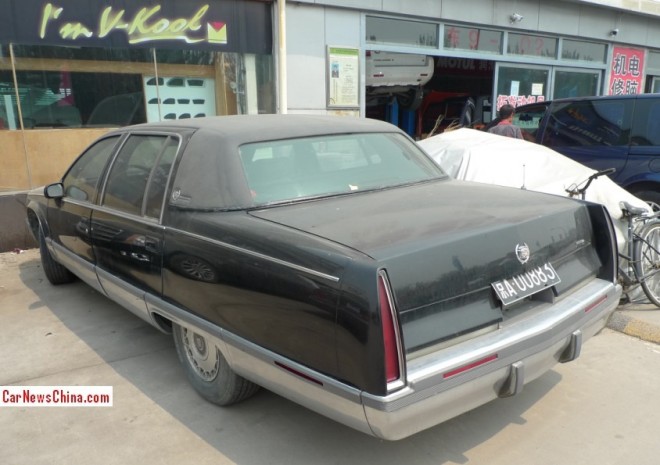 The only place where the old Caddy was showing its age was the vinyl panel on the roof which had started to disintegrate.  A quick emergency cleanup is needed here! Giant bumpers in perfect shape. Brilliantly designed rear lights in one piece. The good Caddy has a black license plate indicating it was imported into China when new by a foreign-funded company, which were allowed to import their own cars in the 1980's and 1990's.
The 8th generation Cadillac Fleetwood was made from 1993 until 1996 and was powered by a 260hp 5.7 liter V8. The Fleetwood was and is a true automotive icon of its days. Surprisingly many survive in China until today. Time thus, for our Famous China-Cadillac Fleetwood Collection: stretched limousine, brown, Buick Roadmaster Limited, Fleetwood Brougham in black, wedding car, blue, Buick Roadmaster, super stretched, Fleetwood Brougham and another black Fleetwood.
---