A very posh Porsche 911 Carrera S Cabriolet, Spotted in China in an underground parking lot in the Sanlitun area in Beijing. The license plate reads TA911 and that is by far the best license plate on a Porsche 911 Carrera S Cabriolet we have seen in China so far. In Chinese 'ta' means he or she, depending on tone, making for a meaning like 'He 911'.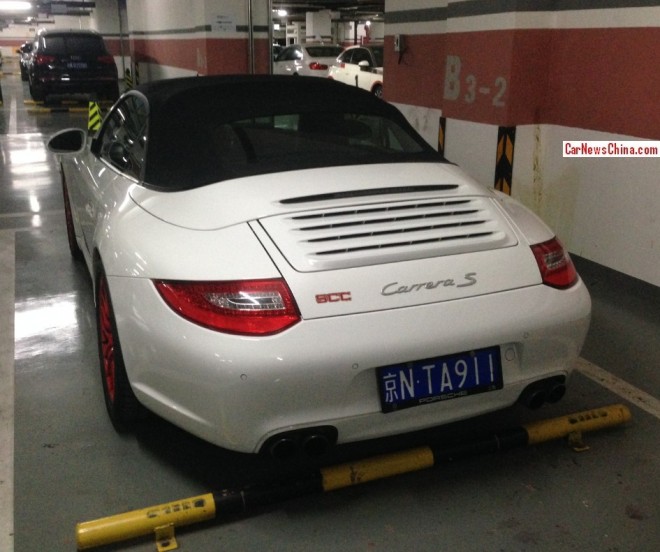 The 911 was slightly sexed up further with an SCC badge. The SCC tag means different thingies in different cities. In Beijing it means Sport Car Club, but in Shanghai it means Super Car Club. There just ain't no oversight oh no! The 997 Porsche 911 Carrera S is powered by a 3.8 liter flat-six engine with an output of 355hp and 400nm, good for a top speed of 303km/h and a 0-100 in 4.7 seconds. This Porsche is Licensed to Speed!
Time now for our Famous China Porsche 911 Collection™: 991 yellow license, matte white, 50th Anniversary, matte gray, 996 GT3, Pink Cabrio, matte orange, with tiger girl, license (911HY), body kit, license, shiny green, shiny blue, baby blue,  991 Turbo prototype, 911 Turbo S, 993 Carrera RS, pink cabrio, matte black, matte black 911 GT3, 964 911 RS America, yellow 964 911, pink 996, shiny blue, orange, Edition 918 Spyder, matte-black, pink, ugly body kit, gold, and the China-only Anniversary Edition.
---