A mellow yellow 991 Porsche 911 Carrera 4S, Spotted in China in a residential compound in an extremely faraway suburb of the capital Beijing. The license plate reads 911H4 and that is one of the best license plates we have seen on a Porsche 911 in China. The speedy banana is further sexed up by tinted headlights, tinted fog lights, and sporty ten-spoke alloys.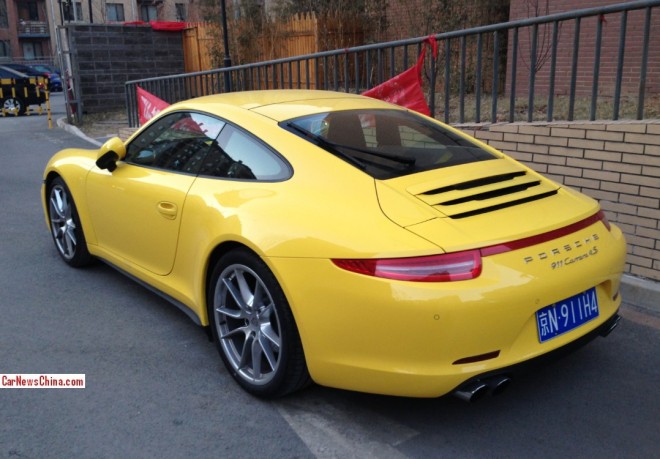 The Porsche 911 Carrera 4S is powered by a 3.8 liter flat-six engine with an output of 395hp, good for a 300km/h top speed and a 0-100 in 4.3 seconds. The Porsche 911 is the third most popular Porsche in China after the Cayenne and the Panamera. Price starts at 1.47 million yuan and ends at 2.97 million. Lotta money, but Porsche.
Time now for our Famous China Porsche 911 Collection™: matte white, 50th Anniversary, matte gray, 996 GT3, Pink Cabrio, matte orange, with tiger girl, license (911HY), body kit, license, shiny green, shiny blue, baby blue,  991 Turbo prototype, 911 Turbo S, 993 Carrera RS, pink cabrio, matte black, matte black 911 GT3, 964 911 RS America, yellow 964 911, pink 996, shiny blue, orange, Edition 918 Spyder, matte-black, pink, ugly body kit, gold, and the China-only Anniversary Edition.
---