A very spacy Smart ForTwo, Spotted in China on the Beijing Tuning Street. The good Smart was wrapped in a rocket-launching galaxy wrap, allowing time travelers to point out where they live, and further spaced up with sporty 12-spoke white alloys and red brake pads.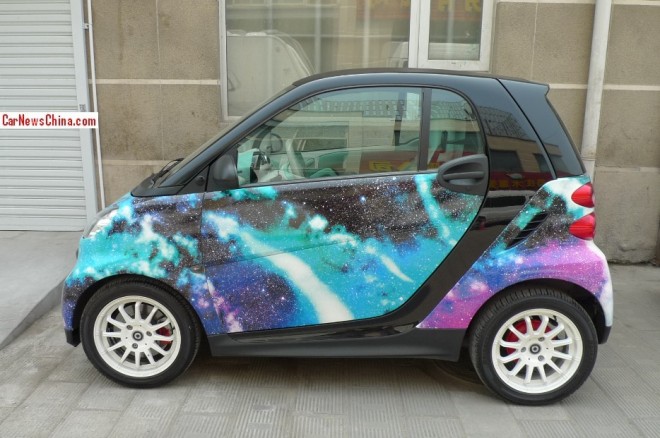 Earth is located just to the left, and a bit below, the man R-shaped super nova to the left, and a bit below, of the door handle. The wrap was of rather good quality and neatly extended over the bumpers. The mirrors and door handles however were sadly left in black. Galaxy wraps are fast becoming popular in China. In recent light years we met: Ferrari F12, Audi A5 Cabriolet, a Ferrari 458, and a Lamborghini Gallardo.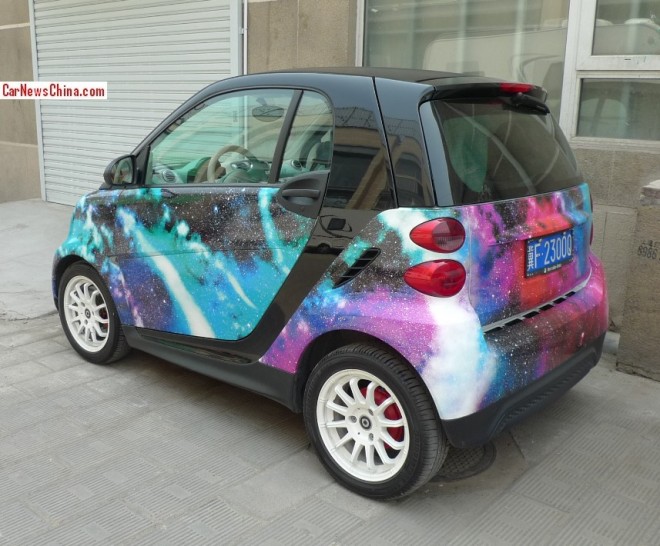 Blue license plate fits very well in Smart galaxy. Back to smart business indeed! The Smart ForTwo is a popular car among young and hip girls in the city. Price in China starts at 115.000 yuan and ends at 225.000 yuan, and then there is the Jeremy Scott Edition, still available for a massive 388.000 yuan.
Time now for out almost Famous China Smart Collection™: bling, Brabus Dragon, with girl, body kit, shiny green, ForSpeed, super wide, pink,  Hello Kitty, and Bling.