An incredible Ferrari 458 Italia, seen in the great city of Shanghai by reader Bjorn B., thank you very much for the pictures! The good Ferrari was wrapped in a wrap showing the whole galaxy, with stars and planets and many milky ways. A work of art! The wrap is similar to an artwork we saw on a Lamborghini Gallardo in Shenzhen. Could this be, a new trend..?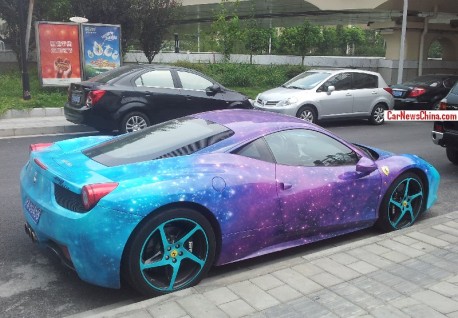 The wrap seems to be of the highest quality and is correctly extended over the bumpers and mirrors, as the galaxy is everywhere as well. The alloys are tastefully painted in light blue, the color of the heavens closest to man.
This galaxy is a speedy one; powered by a 4.5 liter V8 with 570hp and 540nm, good for a 325km/h top speed and 0-100 is gone in 3.4 seconds. Time now for our Extremely© Famous China-Ferrari 458 Collection™: with Aventador, with F12, license (458Z8) China Special 1/20, crash, license (458F1), license (FF458) Pink, Spider @ speed, license (458OY) with Roller, pinkish Spyder, license (458AX), shiny red, matte gray, license (458MW), shiny green, China Limited Edition 2, on a truck, matte purple, blue Spider, bling, crashed, China Limited Edition, shiny red & matte black, baby blue, crashed, pink (scroll down), China Limited Edition debut,  purple, with horse, crashed, pink, silver, some silver & some white, and with a friend.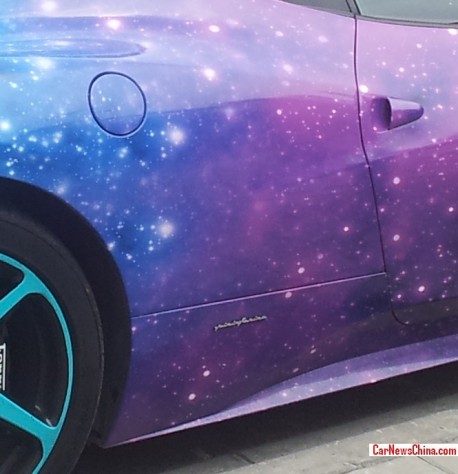 Finding earth on a Ferrari 458 Italia in China is no easy task.