A spaced out Lamborghini Gallardo, seen in the great city of Shenzhen in Guangdong Province. The good sportscar has been wrapped in a wrap depicting the whole galaxy, including the milky way and zillions of stars with their surrounding planets. An ambitious piece of work, but it worked out well.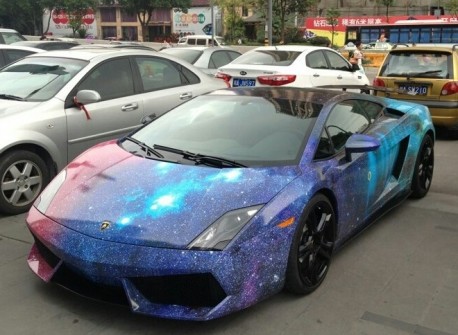 The further you space travel, the better the colors get. Just try… And even the mirrors are in galaxy! What a great car… The Lamborghini Gallardo is a very popular super speedy super car in China, price starts at 3.48 million yuan or 570.000 US dollar. A wepic wrap like this likely costs at least 10.000 yuan.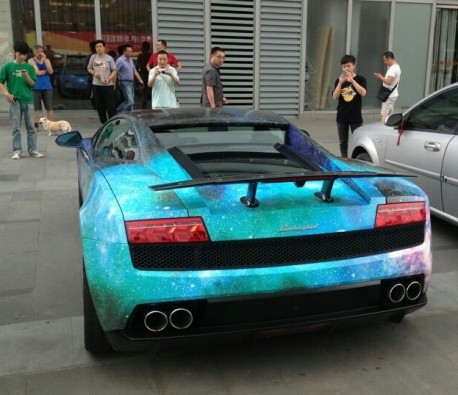 Clicking away at the galaxy.
This is our Extremely Famous® China-Lamborghini Gallardo Collection™ : baby blue, with hottie, crash, Sesto Elemento R/C, orange, yellow, crash, orange with Mac, tree-crash, matte black, license plate, pink, Balboni, LP550-2 GZ8 Edizione Limitata, shiny green, chrome, Reventon, crash, GZ8 Edizione Limitata, shiny-blue, matte-black & orange, water melon, red wheels,  HK20, pink, matte-black, gold, pink, another pink, lime-green, in gold, one purple, another purple, Gold Edition, and a Spyder Performante.