A very speedy Volkswagen Scirocco, Spotted in China on the Wufang Tianya Automobile Parts City. The good Volkswagen is wrapped in an eye killing glitter orange wrap, strengthened for effect with baby blue and matte black parts, and further volleyed up by lowered suspension, a badass body kit, a black grille, a matte black Volkswagen logo, black winglets in the bumper, a black roof, matte black mirrors, and extra large racy tires with matte gray five-spoke alloys and red brake pads.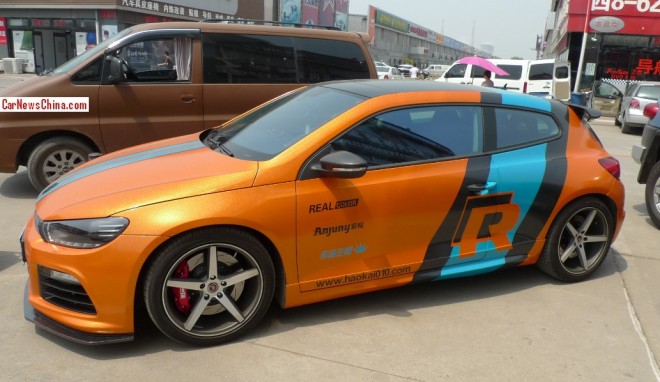 The wrap was of top quality and neatly applied over the bumpers. Large R integrated in wrap. Best thing however are the doorhandles, wrapped skilfully in matte black and blue. Badly however, the matte black of the wrap doesn't exactly match the matte black of the mirror. Otherwise, a brilliant piece of work.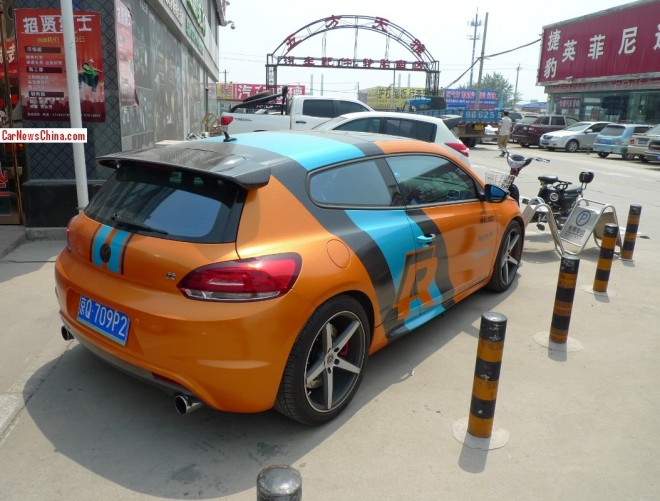 Scirocco matches with poles. Volkswagen logo in matte black again. Shiny exhaust pipes.
The Volkswagen Scirocco is imported into China and a rather popular sporty car. Price starts at 239.800 yuan and ends at 466.800 yuan. The R is the fastest version powered by a hefty 2.0 turbo with 250hp and 330nm.
Time now, for our Famous China-Volkswagen Scirocco Collection™: Pinky Porsche, big wing, low rider, Audi, matte black lowrider, white black, body kit, purple, low-pink rider, only bodykit, pink, an AMG and orange.