A Ferrari 575M Superamerica supercar crashed hard near the entrance to an elevated highway in the great city of Guangzhou in Guangdong Province in China. The crash happened just hours ago on the early Monday morning.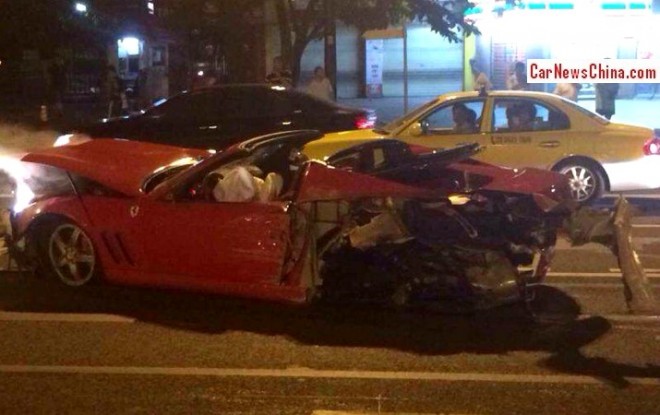 It appears the vehicle was hit hard on the rear-left and front-right, indicating some sort of a spin. Both airbags have been deployed so the impact must have been hard. There are no other damaged cars visible in the photos, which likely means the Ferrari hit the barrier and/or a lamp post. No news on the passengers but they are clearly out of the car.
The photos were taken just minutes after the accident, even before the arrival of the police. A tragic accident no matter what, as the 575M Superamerica is a extremely rare car. Only 559 examples were built and as far as we know there is/was only one in China. We met this very car in November 2011 in the great city of Zhengzhou, looking perfectly right.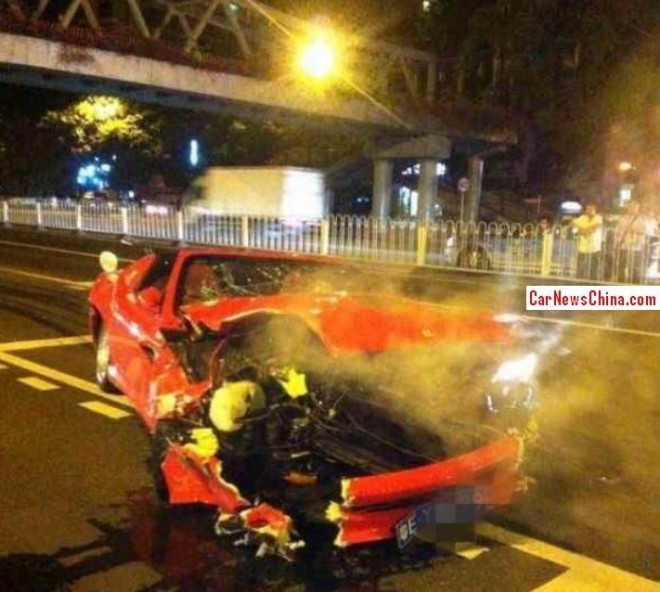 The engine is smoking and the whole front is gone. This Ferrari seems beyond rescue…
Time now for our Famous China-Ferrari Crash Collection: Bling 599 breaks, F12 hits S, 458 in tunnel, hard 458, FF hits a truck, F12berlinetta hits MPV, FF again, 458 & California hit a highway, 458 Spider in a hedge, 458 gets horse-kicked, Ferrari 612 hits pickup truck,  Ferrari Enzo hits a barrier, 458 hits a barrier, Ferrari FF on fire, and a Ferrari California on fire.