A very froggy BMW 320Li sedan, Spotted in China in far east Beijing. The good Bimmer is wrapped in an eye sweetening matte light green wrap, and beamed up even more with an extra shiny grille, a black roof, black windows, glittery license plate frames, and brilliant multispoke matte purple alloys.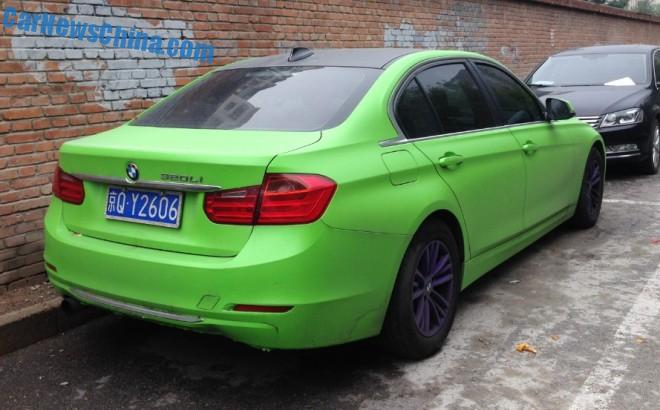 The wrap is of top quality and neatly covers the bumpers, mirrors, and doorhandles; an that is a threesome we can support! Only dissonant is the kinda weird chrome strip over the lower part of the rear bumper. It is standard BMW but it should have been wrapped.
The BMW 3Li is a stretched variant of the BMW 3-Series. It is manufactured in China by the Brilliance-BMW joint venture. Time now, for our Increasingly Famous China BMW 3-Series sedan Collection™: shiny Pink, yellow gold, matte Pink, glitter,  matte black blue, matte purple, black & white, with girl, leopard, not a Cruze, black & orange, and a low rider.