A speedy Porsche Cayenne, Spotted in China by Reader Anonymous in the great city of Shanghai, thank you for the pictures! The good Porsche is wrapped in an eye murdering matte baby blue wrap, and is further porned up by darkened windows, extra shiny chrome strips around the windows and on the B-C-D pillars, shiny chromed roof rails, a fuzzy body kit with a large open grille and four tiny fog lights, and shiny gray five-double spoke alloys with red brakes.
The wrap seems to be of high quality and neatly covers the bumpers, mirrors, and door handles; just like we like to see it so best.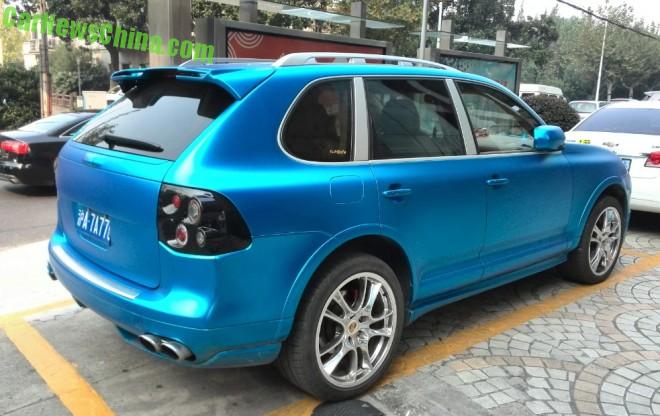 More fun at the back with an super large window spoiler, decidedly after-market taillight covers, a rear-spoiler diffuser ensemble that likely came with said body kit, and four large and heavily chromed exhaust pipes.
The Porsche Cayenne is the most popular high end SUV and the most popular Porsche in China. Time now, for our Famous China-Porsche Cayenne Collection™: black body kit, hybrid frog, license, matte black, TechArt Magnun, Mansory, shiny purple, Mansory Turbo, shiny green, gold, shiny blue, Mansory 958, canary yellow, Luma CLR 558 GT, TechArt Magnum, baby blue, Hamann Guardian, a fish, pink, body kit, police car, matte black, broken with semi-naked girls, very pretty, Hamann Guardian,  stretched, pink, in gold, another stretched, in orange, with dog-pee, and French.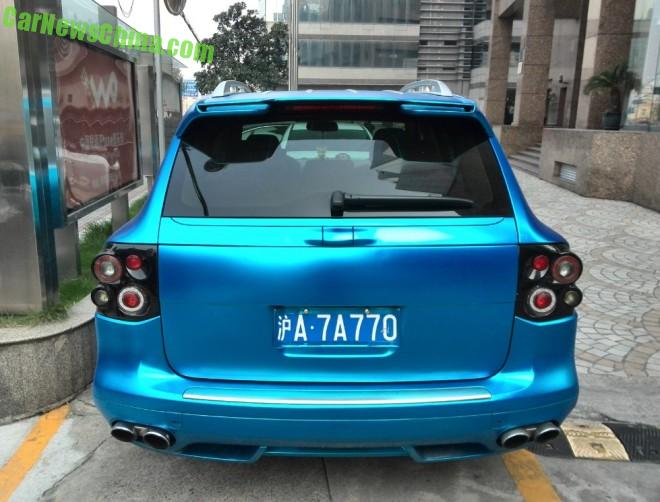 Interesting license plate yet again, reading A·7A770. The seven stands for 'harmonious' in Chinese culture. But it is not a popular number. Seven (七, qi) has the same pronunciation as 欺, meaning cheating, lying to, or riding roughshod over someone. People therefore don't like to have 7 in their phone number, and many believe the seventh year of a marriage will end up in divorce, unless husband and wife really try hard to be good. The owner of this Porsche doesn't seem to care, perhaps tellingly so…