A very fuzzy Porsche Cayenne S, Spotted in China in the Sanlitun embassy district in Beijing. The good Porsche is fitted with a very Chinese body kit, including a confusing bumper section with many a bar and many a light, low slung side bars with fake air vents in the rear wheel arches, and fake air intakes in the bonnet.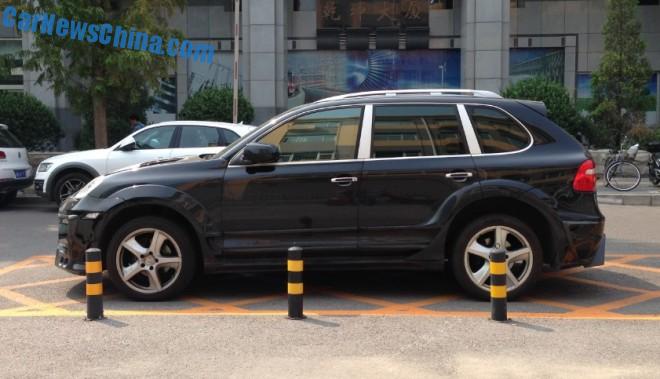 The paint seems to be original. The doorhandles are in chrome with a black sticker, the roof rack is as shiny as they come, and the wheels with sporty five-spoke alloys look awfully small.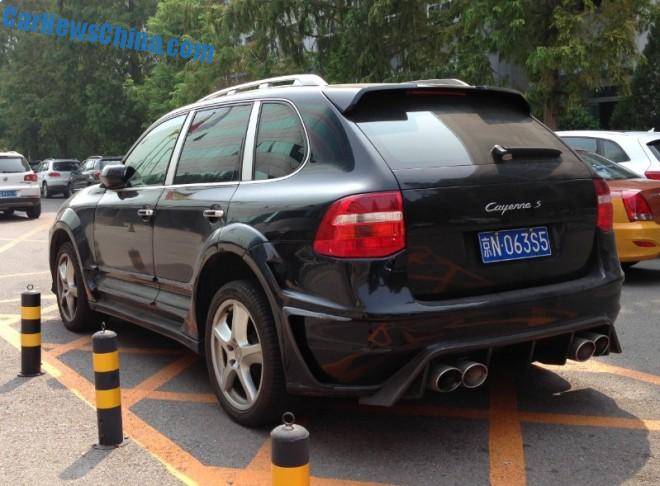 Large roof spoiler, fake air vents on the back of the wheel arches, a giant diffuser unit, and four exhaust pipes. All together an interesting ensemble.
The Porsche Cayenne is the most popular high end SUV and the most popular Porsche in China. Time now, for our Famous China-Porsche Cayenne Collection™: hybrid frog, license, matte black, TechArt Magnun, Mansory, shiny purple, Mansory Turbo, shiny green, gold, shiny blue, Mansory 958, canary yellow, Luma CLR 558 GT, TechArt Magnum, baby blue, Hamann Guardian, a fish, pink, body kit, police car, matte black, broken with semi-naked girls, very pretty, Hamann Guardian,  stretched, pink, in gold, another stretched, in orange, with dog-pee, and French.
Click or Die: