Two extremely speedy super cars in China, Spotted in China in the Sanlitun bar street in Beijing. On the left a brute Mercedes-Benz SLS AMG, on the right a giant Ferrari F12berlinetta. The vehicles match very well, both in color and in purpose; looking fast!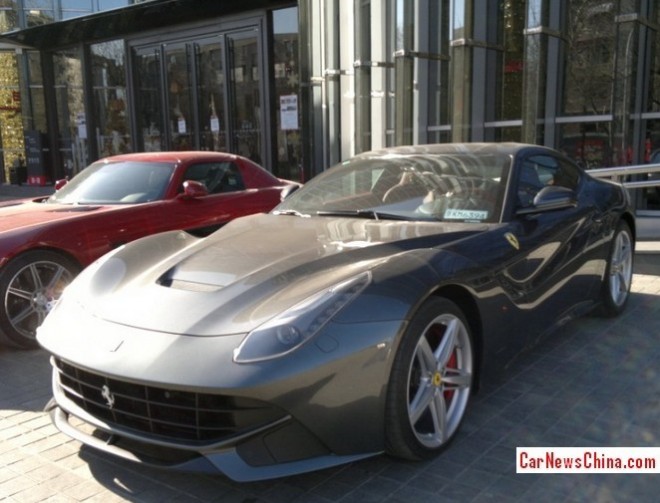 The Ferrari F12berlinetta is powered by a screaming 6.3 liter V12 with 730hp and 690nm, good for a 340km/h top speed and 0-100 is gone in 3.1 seconds. Price starts at a crazy 5.308 million yuan or 835.000 USD. The brake pads of this particular car are in red, matching very bad with gray paint. Yellow pads would be better.
Time now for our Famous China-Ferrari F12berlinetta Collection™: with 458 and license (99F12), matte gold, garage, license (6KF12), at the wedding, license (00F12), with 458,  red in Zhongshan,  with friends, black in Shanghai, on the move in Wenzhou, blue in Xiamen, dusty in Wuhan, red in Guangzhou (crashed), black in Chengdu, and a truck full in Shanghai.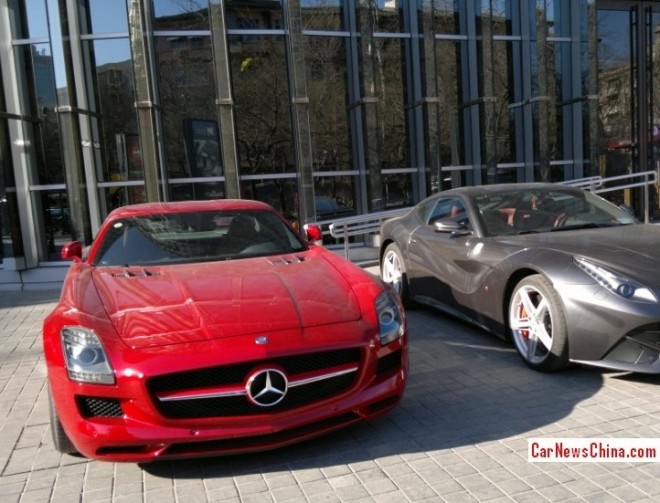 The Mercedes-Benz SLS AMG is a much smaller and nimbler car than the Ferrari, which almost seems a barge in comparison. The SLS AMG is still widely available in China. Price starts at 3.62 million yuan or 590.000 USD. Power comes from a bumbling and rumbling 6.8 liter V8 with 560hp and 650nm, top speed is 317km/h and 0-100 is gone in 3.8 seconds. This particular car has the chrome strip on the grille partially painted in red. Hip.
Time now, for our Famous China-SLS AMG Collection™: selling house with girl, license (AMG991), with Aston, yellow or green, gold, with babe on bonnet, purple, pink, bag trousers, pink-silver, bling (scroll down), crash, and a  Mansory Cormeum.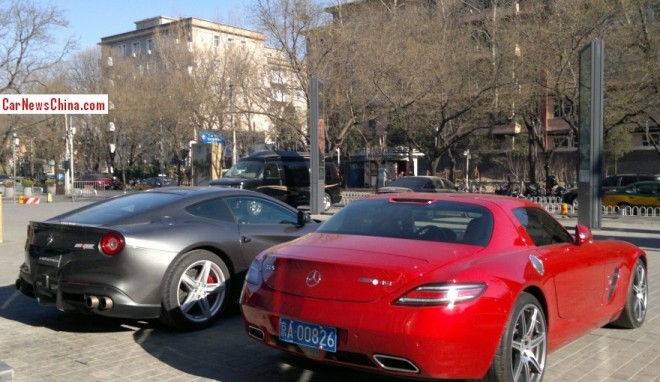 Which ass would you rather own?
---