A flashy Porsche Panamera, Spotted in China on the Third Ring Road in Beijing by Reader Lao Wei, thank you for the pictures! The speedy 'Pan was wrapped in an eye-slaughtering shiny green wrap, and further porned up by completely black windows, black window frames, and racy five-twin spoke matte gray alloys.
The wrap seems to be of top quality, neatly extending over the bumpers, mirrors, and doorhandles; just like we like to see it best. The Porsche Panamera is the second most popular Porsche in China after the Cayenne. Price starts at 895.000 yuan and ends at 3.12 million yuan. Sadly and badly we don't see many modified examples; but we have a few! Time thus, for our Famous China-Porsche Panamera Collection™: Mansory, boat, shiny red, shiny silver, matte black, Bling gold, pink alloys, Mansory, all-Pink, wearing jeans, and the RUF XL.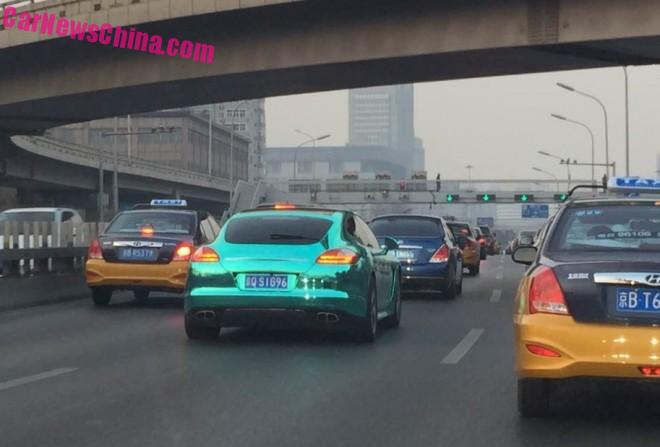 Lightening up the Ring, flanked by a Hyundai Elantra taxi on each side.