A very happy Rolls-Royce Ghost, Spotted in China in the great city of Tangshan in Hebei Province. The good Roller is wrapped in a Pink wrap, and further sexed up with a Pink interior, darkened windows, and super shiny five spoke chromed alloys.
The wrap appears to be of top quality and neatly covers the bumpers and mirrors. The door handles are in black with a tiny chrome strip on top. Chrome strips around the windows form an artful border between the Pink body and the darkened windows.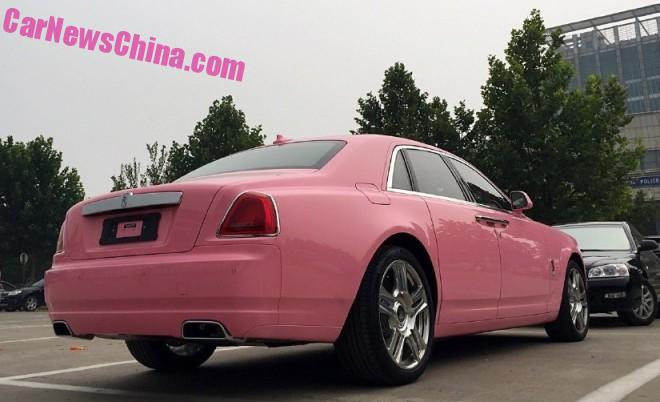 The Rolls-Royce Ghost is a very popular car in China. Power comes from a twin-turbocharged 6.6 liter V12 with 570hp and 780nm. Price starts at 4.19 million and ends at 6.66 million yuan. Six is a lucky number in China, although not as lucky as eight. The Phantom for example is priced from 6.88 million to 9.88 million yuan.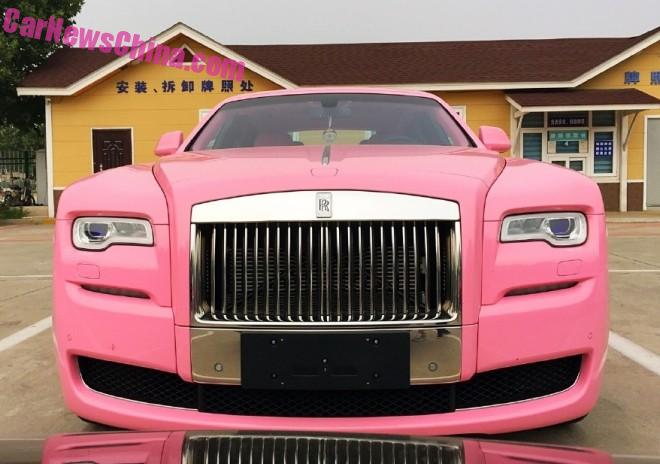 Rollin' Pink.
Time now, for our famous China Rolls-Royce Ghost Collection®: crashed, almost-grounded, license, crash, Canton Glory, Royal Horse, Art Deco, lucky, kareoke, bit bling, cake, dual tone, Six Senses, crash, crash, crash, crash, EWB and a special China Edition.