The Geely Galaxy E8 is a large electric sedan for the Chinese market. Its exterior design is based on the Geely Galaxy Light concept car. As a result, it has an attractive styling. Moreover, the E8 is just a long sedan with a 5-meter length, a 272-hp (200 kW) electric motor and an LFP battery.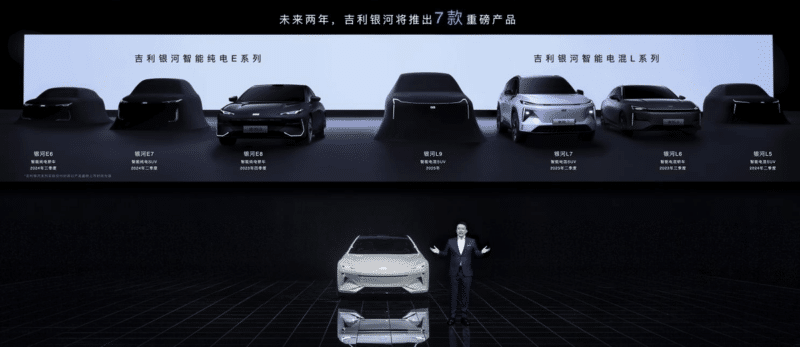 First of all, we will remind you that Galaxy is a new energy series under the Geely brand. However, it has its own logo and its own relatively wide model line. According to Geely, the Galaxy brand will comprise 7 vehicles. The first Galaxy model has already launched in the Chinese market, it is the Galaxy L7 plug-in hybrid SUV. The second vehicle in the Galaxy series is the Galaxy L6 PHEV sedan that will hit the market soon. And the third one will be the E8 electric sedan that has just debuted in the MIIT catalogue in China, revealing its specs.
More on the Geely Galaxy E8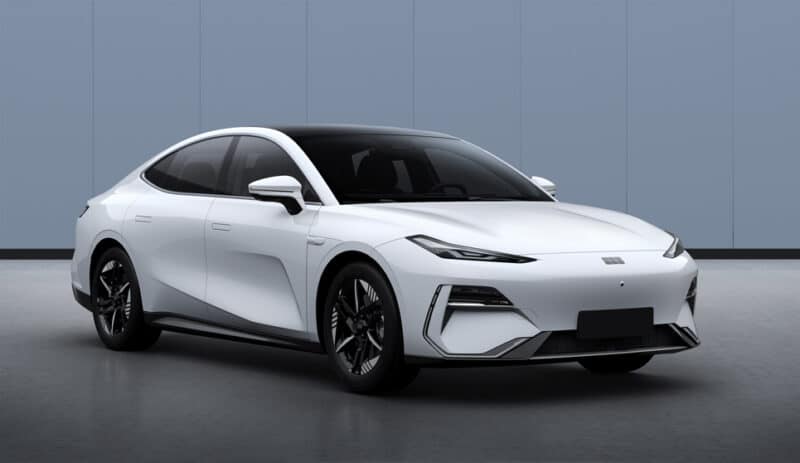 Previously, we have covered the official images of the Galaxy E8 covered with camouflage. However, it was totally exposed by the Chinese Government during the process of the domestic homologation. This sedan adopts a new design language with thin LED running lights that sit right under the bonnet. As for the headlights, they are integrated into the front bumper. Speaking about the bumper, it has got a trapeze-shaped air intake in the lower part.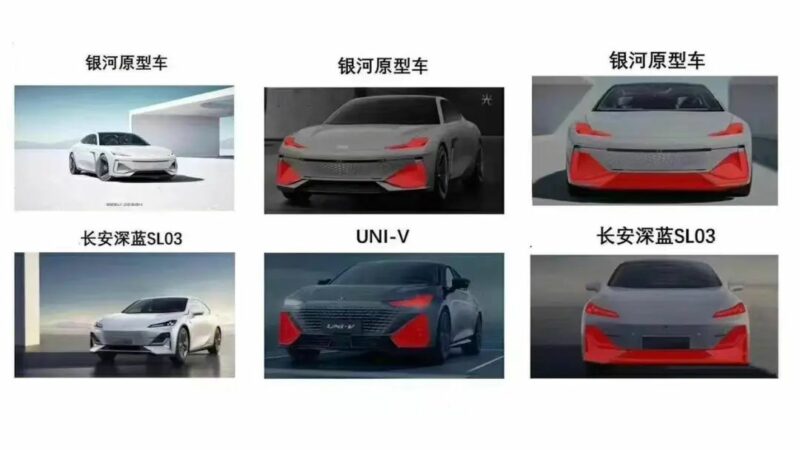 Here, we should mention that it looks pretty close to the Geely Galaxy Light concept car. And, as you may know, Changan has previously accused Geely of plagiarism. So, you may wonder how Geely managed to go through it and start the homologation process. And we have the answer. These two companies became strategic partners in May this year. So, it looks that copyright infringement was just a PR-move from companies to heat the attention to them.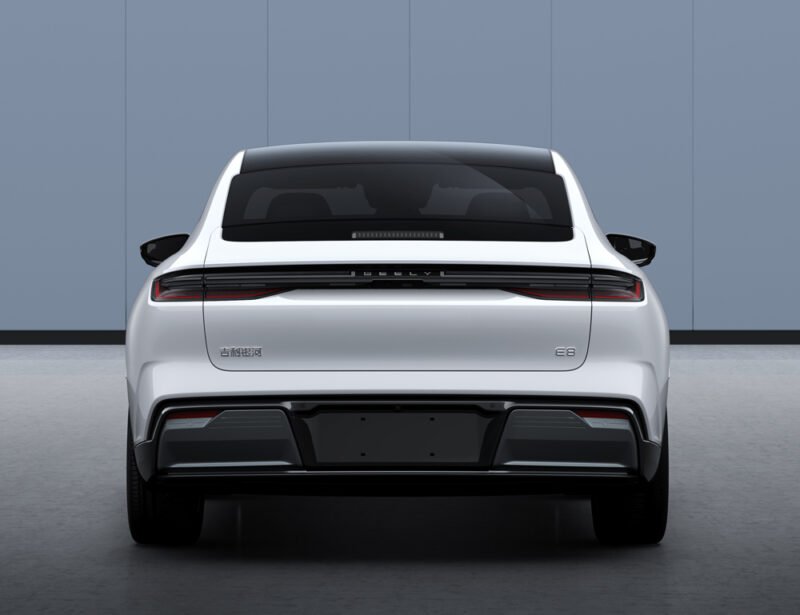 Back to the Geely Galaxy E8, it has a slick roofline, retractable door handles, and a single taillight unit with 'Geely' inscription on it. From the back, the E8 looks quite simple. Speaking about its dimensions, they are 5010/1920/1465 mm with a wheelbase of 2925 mm. So, in terms of sizing, it stays in line with such cars as the Mercedes-Benz E-Class, Audi A6, etc. Its rear track is slightly wider than the front one (front:1641 mm; rear: 1646 mm). As for the approach and departure angles, they are 13 and 15 degrees, respectively.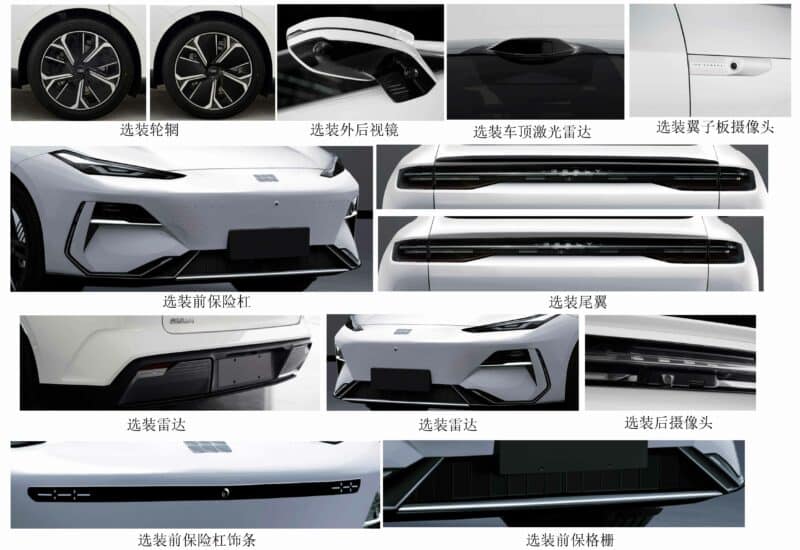 The curb weight of the Galaxy E8 is 2030 kg. And the gross weight reaches 2440 kilos. So, it is a heavy sedan. It can be equipped with 235/50 R18 or 245/45 R19 wheels.
Geely Galaxy E8 powertrain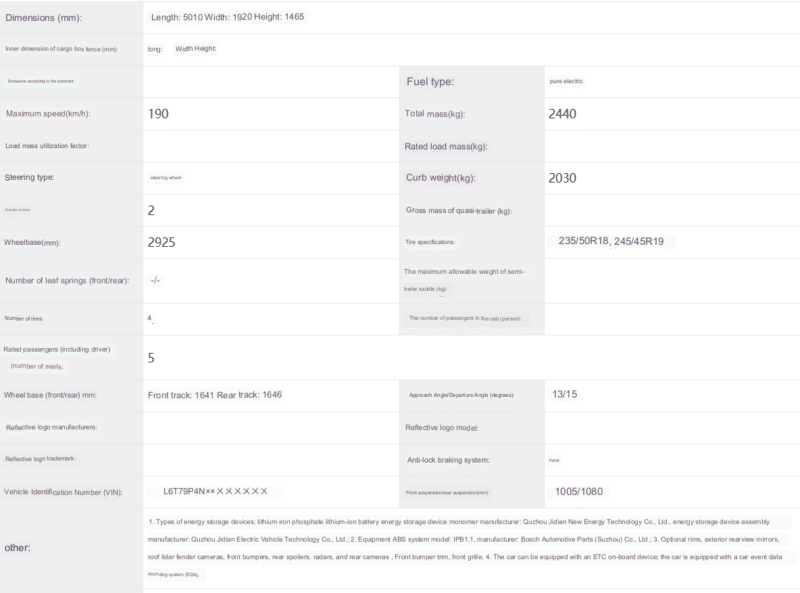 The Geely Galaxy E8 has a single electric motor that is more likely to sit in the rear axle. It is manufactured by Viridi Energy Mobility Technology (VREMT), a powertrain manufacturer under Geely. Its power output reaches 272 hp (200 kW). We should underline that this electric motor is TZ220XSA02. The same model powers Smart #1, Zeekr X, Zeekr 001, Zeekr 009 and other EVs, related to Geely.
Speaking about a battery pack of the Geely Galaxy E8, its capacity has yet to be revealed. However, we do know that it is an LFP battery from Quzhou Jidian New Energy, a young battery maker under Geely. We will mention that some high-end Geely vehicles use packs from CATL. However, the Galaxy E8 adopts the battery directly from Geely. As a result, both e-motor and battery are made by Geely. It can reduce the cost of the car and enhance compatibility of the drive train.
Editor's comment
We aren't sure about the price range of the Galaxy E8. On the one hand, it is a relatively large sedan with an attractive styling. On the other hand, it has RWD only and an LFP battery. Previously, it was rumored to sell for 300,000 yuan (41,000 USD). But the E8 looks more like a BYD Han EV competitor. And the electric version of Han starts from 209,800 yuan (28,950 USD) in China. So, the E8's price range will probably start at 200,000 yuan (27,600 USD). It is a quite attractive price tag for a 5-meter sedan.
In China, it will rival Neta S, BYD Han EV, Rising F7, GAC Aion Hyper GT and Leap C01. This segment still hasn't got a lot of competitors. So, the Galaxy E8 has all chances to show good sales numbers here. We will keep an eye on it, so stay tuned!
Source: MIIT