An eye killing beautiful blue Lamborghini Murcielago LP670-4 SV, seen in the great city of Shenzhen in Guangdong Province. The vehicle was wrapped in incredible shiny blue, and further sexed up by black air inlets, black detailing up front and at the back, black mirrors and black alloys.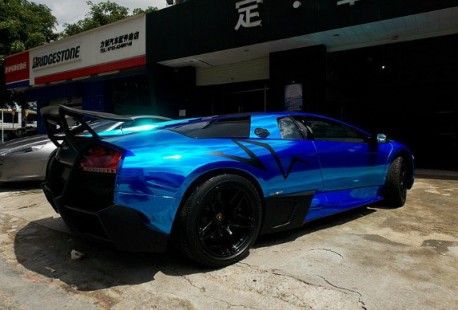 This machine will eat the sun, if it is out for too long. We continue: black SV stickers, black wing at the back, and best of all: a black fuel cab. This is, by far, and officially, the best Murcielago we have seen in China so far, and we have seen a many. This is our Famous China-Lamborghini Murcielago Collection™: with F430, pearl white, with Aston, burning, with friends, LP 650-4 Roadster, LP 670–4 SV China Limited Edition, crashed, shiny red, with FF, China Limited SV, double China SV,  matte black SV, roadster in gold, an expensive toy, SV in black, gray, SV in yellow, lime-green, chrome, Versace Edition, SV crash, LP650-4 Roadster, and another SV in yellow.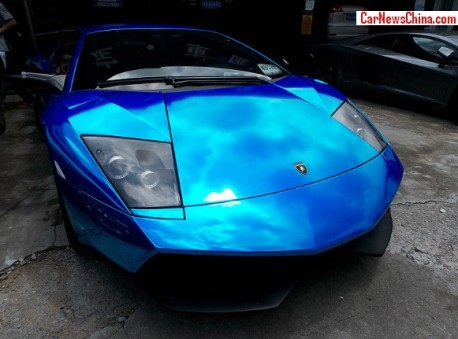 The Lamborghini Murcielago LP670-4 SV was the hardcore variant of the standard Murcielago, lighter and faster! It was powered by a 6.5 liter V12 with 670hp and 660nm. Weight was reduced by 100kg. Top speed was 336km/h with the Aeropack wing or 343km/h with an optional smaller wing.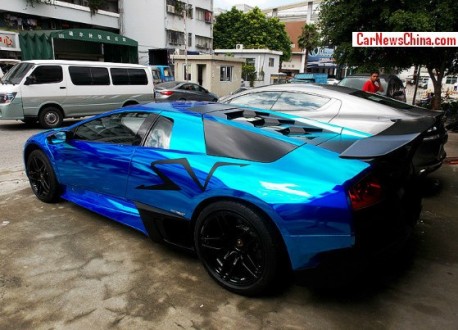 This is the Big Wing, as a Lambo should have. A Lambo with a small wing ain't no real Lambo.