An extremely beautiful Lamborghini Murcielago LP 640 painted in pearl white, seen in the great city of Shenzhen in Guangdong Province. Pearl white works brilliantly at night and even more so on the stealth fighter lines of the sleek Lamborghini supercar.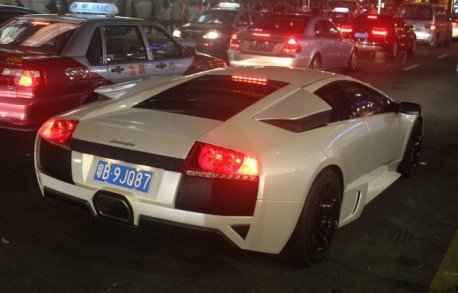 Air intakes are open for just a bit more drama. Black alloys and tinted windows contract perfectly with pearl white body work. This is by far the most magical Murcielago we have seen in China so far. The LP 640 arrived in 2006 and was powered by a 6.5 liter V12, good for a pearl-crushing 640hp and 660nm.
The 'Murc' was a mighty popular supercar in China, here is our Famous China-Lamborghini Murcielago Collection™: with Aston, burning, with friends, LP 650-4 Roadster, LP 670–4 SV China Limited Edition, crashed, shiny red, with FF, China Limited SV, double China SV,  matte black SV, roadster in gold, an expensive toy, SV in black, gray, SV in yellow, lime-green, chrome, Versace Edition, SV crash, LP650-4 Roadster, and another SV in yellow.