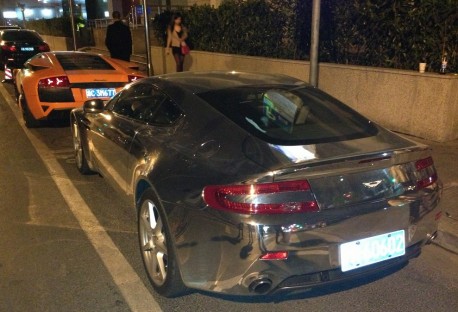 Late evening in Beijing, I should go to sleep but I can't, restless and all, because I didn't get enough Bling today! Fortunately I just found a little bit more… This a superbly Blinged Aston Martin Vantage sportsmachine, seen parked in front of the Mook Club in the great city of Shanghai by reader Christian S., thank you for the pictures!
Aston Martins are very rare to become Bling in China, so far we only met a shiny purple Vantage, which isn't even real Bling, but the best we have. Anyway and how, the Vantage is brilliant. See car in background…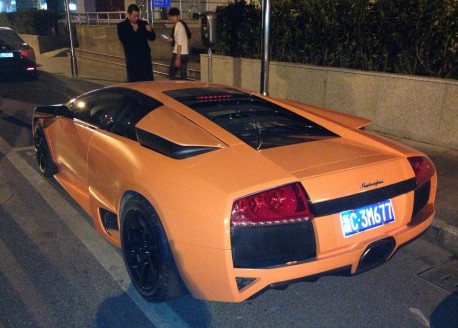 … it is a orange Lamborghini Murcielago with black alloys! Normally unmissable on any street, except when a Bling Vantage is parked right behind it, as was indeed the case here. In every other situation the superspeedy Lambo would be Boss! To make up for this thus unprecedented loss a few Murcielago friends: burning, with friends, LP 650-4 Roadster, LP 670–4 SV China Limited Edition, crashed, shiny red, with FF, China Limited SV, double China SV,  matte black SV, roadster in gold, an expensive toy, SV in black, gray, SV in yellow, lime-green, chrome, Versace Edition, SV crash, LP650-4 Roadster, and another SV in yellow.