A very tasty Nissan GT-R super car, spotted in China in the great city of Shenzhen in Guangdong Province. The speedy Nissan was wrapped in an eye smoothing matte blue wrap, and sexed up much further by a fatass body kit, black A-pillars, a large wing on the back, slick-like tires and very racy 5-spoke blue alloys.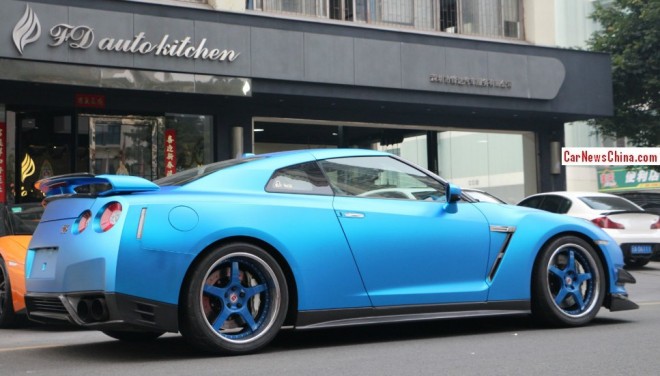 The wrap seems to be of the highest quality and is neatly extended over the mirrors and, partly, over the bumpers. The wrapping men however messed things up at the door handles, where the wrap has been damaged! Some extra glue would have prevented that without a problem. See rare brake pad, this Nissan has seen a lotta track.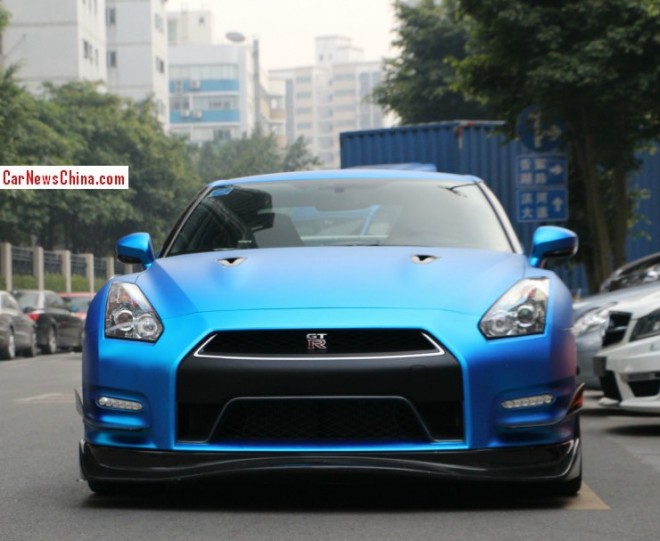 The Nissan GT-R is one of the most popular performance cars in China. Price starts at a steep 1.53 million yuan or 251.000 USD. Lotto money, but 3.8 twin-turbo V6 with 545 horses. Time now for our Famous China-Nissan GT-R Collection™: glow-in-the-dark, with wild girl, with EVO X, licenses,  turquoise, gold, pink black, with babe, shiny pink, shiny purple, very red, banana, matte-black, purple-white, Brilliance, matte black, gold, Lambo-doors, matte-mint green, shiny purple, pink, on bicycle lane, red & black,  silver pirate, pink&black, orange, Lioncel,  green-blue-pink, gold, lime-green, and police.
---