Spy Shots showing the 2015 Mercedes-Benz C63 AMG in China, seen here on the back of a flatbed truck. China is one of the biggest markets worldwide for  AMG so Mercedes is thoroughly testing  each new car in country to make sure they behave well on Chinese roads.  The 2015 C63 AMG will have its international debut on the Paris Auto Show in September and will debut in China on the Guangzhou Auto Show in November.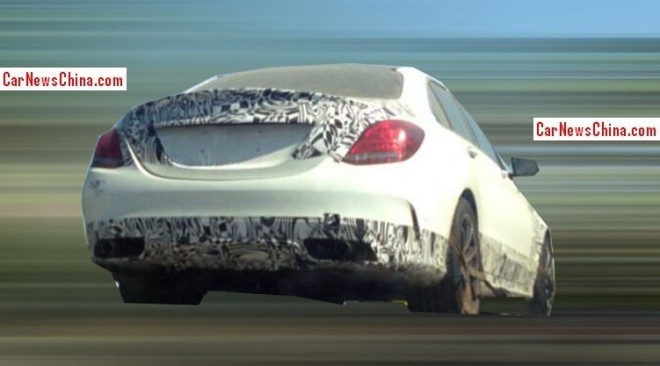 Aggressive body work with a large integrated wing on the back. Two exhaust pipes on each side. The new C63 AMG will be powered by a twin-turbocharged 4.0 liter V8 with about 450hp. This engine will also power the upcoming Mercedes-AMG GT supercar. Transmission will be a seven-speed Speedshift automatic, sending power to the rear wheels.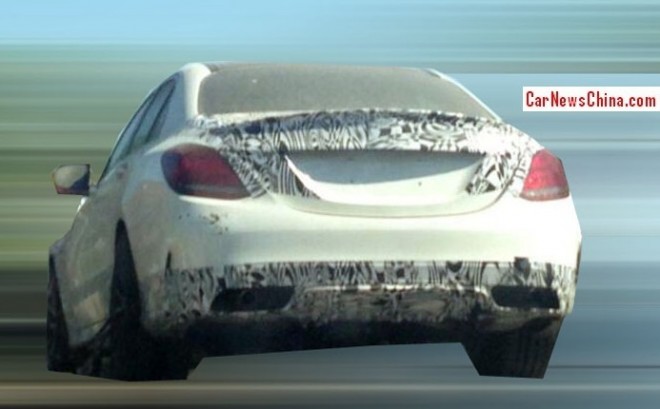 The Mercedes-Benz C63 AMG will be imported into China. Price will start around 990.000 yuan or 161.000 USD. The Mercedes-Benz C-class L, a stretched variant of the regular C-Class sedan, is manufactured in China by the Beijing-Benz joint venture.
Time now for our Famous China-Mercedes-Benz C63 AMG sedan Collection™: license (6MG63), shiny grille, license & alloys, license (8L563),  light-matte yellow, shiny purple, purple with babe, license, black with a license, matte black, Bling, in purple, in matte-purple, Wald Black Bison, Renntech C74 and in pink.