A lunatic Lincoln Town Car, Spotted in China in the great city of Shenzhen in Guangdong Province. The giant American limousine is painted, no wrapping here!, in froggy green, and further leaped forward with henna-tattoo style decals over the rear deck and roof and sides and bonnet, and an absolutely brilliant spare wheel cover in a custom made chromed platform at the back. But check this:
The horror! That is a Cadillac cover, fitted on a Lincoln, arch enemies forever until earth explodes. License plate is an oldie, a very old one indeed, from neighboring Guangxi Province, indicating this frogged Lincoln has been in China for a long long time. The second generation Town Car was manufactured from 1989 until 1997 with a facelift in 1995, this greeny is a facelifted car.  The Lincoln Town Car was based on the famous Ford Panther platform and powered by a big American 4.6 liter V8 with 220hp and 386nm, mated to a 4-speed manual.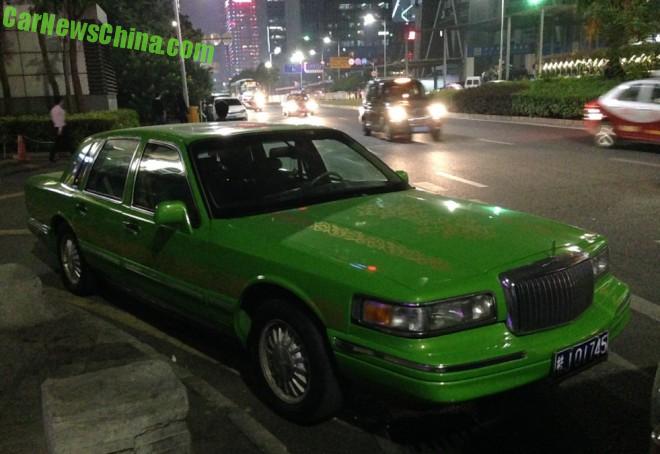 The alloys are perfectly period, chrome shining like new all over the car, and green actually doesn't do bad to Town. Certainly a kinda different…
Time now, for our Famous China-Lincoln Town Car collection™: lucky limo, Cartier L, black, stretched, Signature Series, stretched limousine, stretched on sale, bling-gold, silver limo, very stretched, super stretched,  stretched to the max, marriage, first-gen limo black, Hongqi CA7460 and orange.