A beautiful Mercedes-Benz 560SEL sedan, Spotted in China on a piece of empty land near a near-dry river in Shunyi District in Beijing. The poor old Benz is sadly in very bad shape and abandoned, left there to rot! Who on earth, or in China, would do such a horrible thing..?
The 560 SEL is the absolute top spec W126 S-Class. The L stands for 'lang' meaning 'long'. And long it was, stretched by 14 centimeter for a massive length of 5.160 meter. Power comes 5.6 liter V8 with an output of 268hp and 421nm, good for an impressive 250 kilometer per hour top speed.
The W126 was made from 1979 until 1992 but it was never officially exported to China. Some cars however were bought by the Chinese government and others arrived via diplomatic or other misty channels.
We got us a small China-W126 Collection: 260SE, black 560 US, black 560 SEL, abandoned, chery red, US-spec 560 SEL, sporty 560 SEL, S280, really stretched, 500 SEL, 300SE, and another abandoned.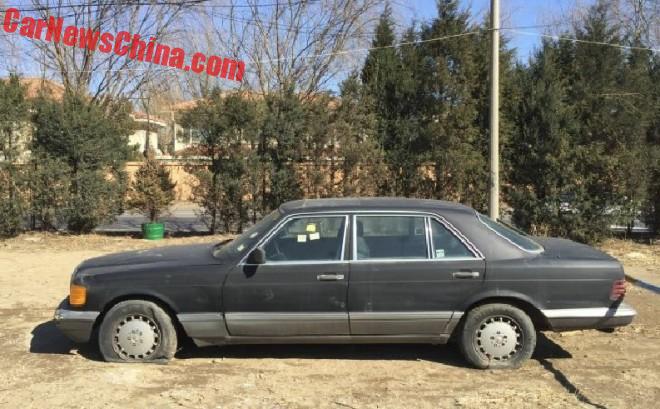 Still, the great car doesn't seem hopelessly lost, the body work was mostly undamaged and few parts were missing, but it will take a lot of money, time, and love to get her back on the road again. And the car has been standing there for a long long time, according to to Reader Jeph, who brought there, so the mechanics and engine likely need a complete overhaul. Difficult, but doable.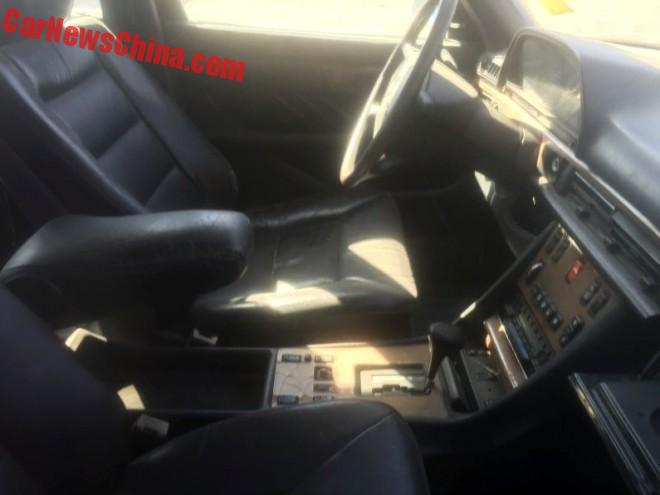 Interior too in a sad shape. The black leather has worn out and everything is dirty to the max, but the wood seems good and the radio-cassette player is original.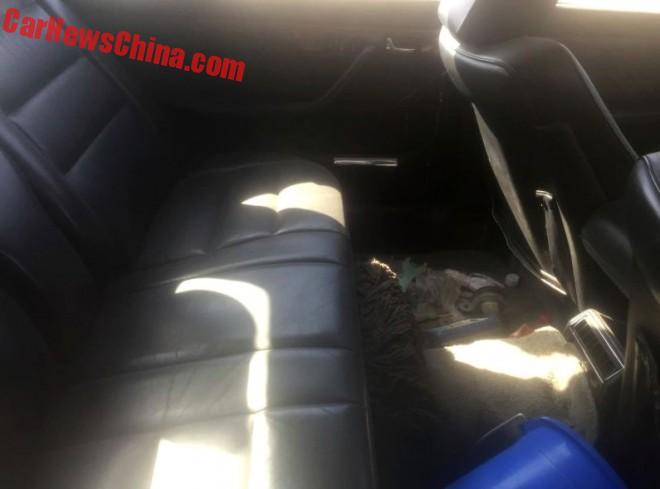 Where is that blue bucket for? Wuzzy carpet a later addition.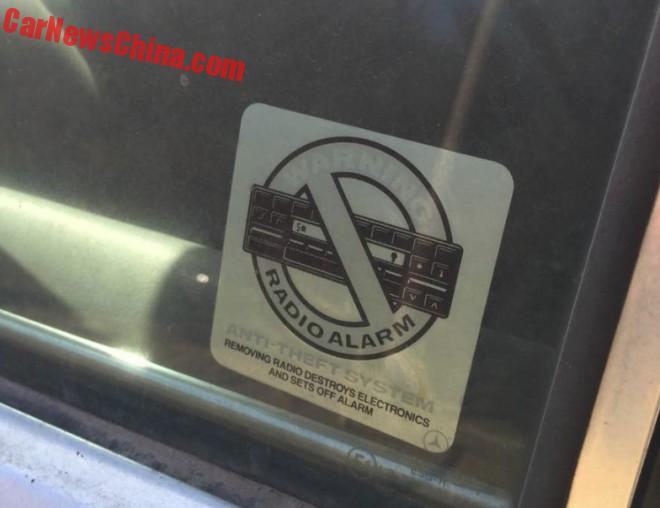 This particular example has been fitted with the then-highly advanced radio alarm anti-theft system, which killed all electronics and set off the alarm if the radio was removed. The alarm sure will bother a burglar, but I doubt he would care about the other electronics. No working windshield wipers, let's NOT steal that radio!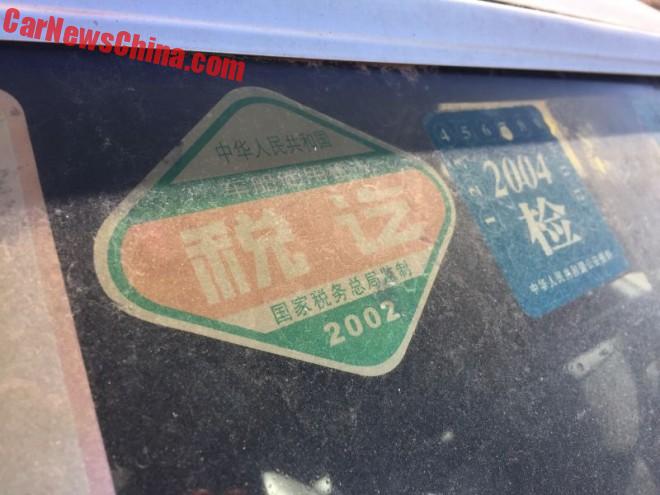 The oldest registration I could find on the car was of 2002.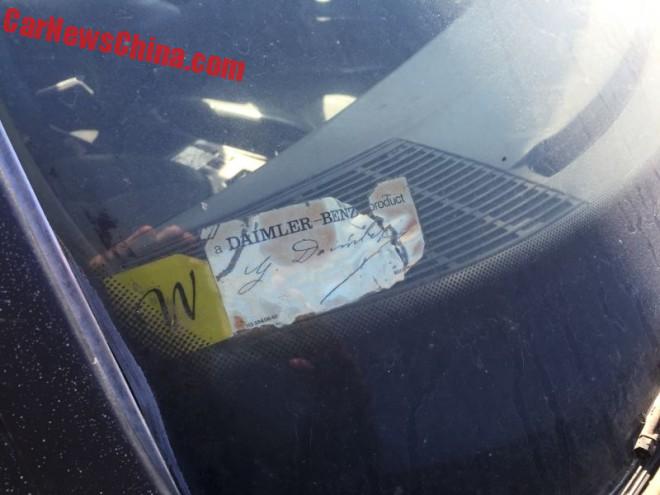 This interesting sticker was standard on all U.S.-spec Mercedes-Benzes in period, earlier on we saw the same sticker on a R107 560SL. The sticker has the text a Daimler-Benz product, and was 'signed' by the company's founder Gottlieb Daimler (1834-1900).
Confusingly, this particular 560SEL has the Euro-spec headlights, instead of the U.S.-spec lights. She was probably first sold in Europe, then moved to the United States, and then on again to China.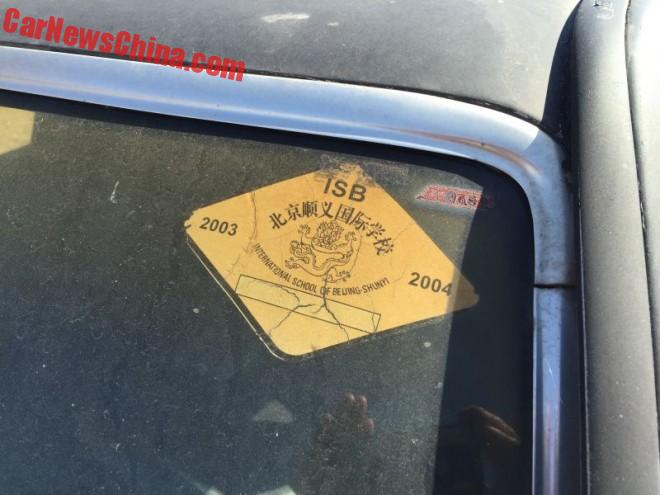 An 2003-2004 parking sticker of the International School of Beijing. Well, with the admission fees that school asks even the janitor can buy a Benz. The headmaster might have a Bentley.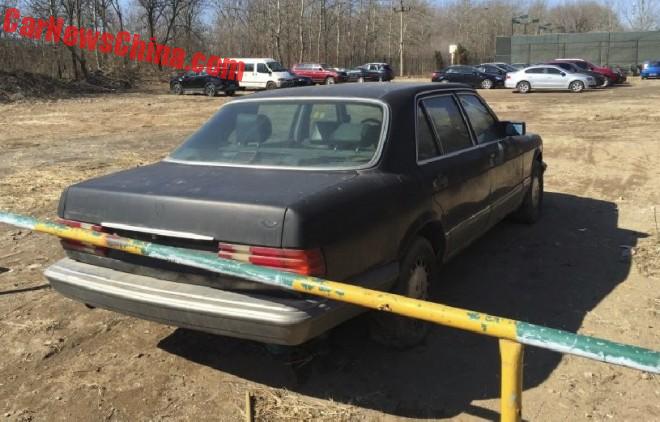 Ste stood lonely to a yellow green fence.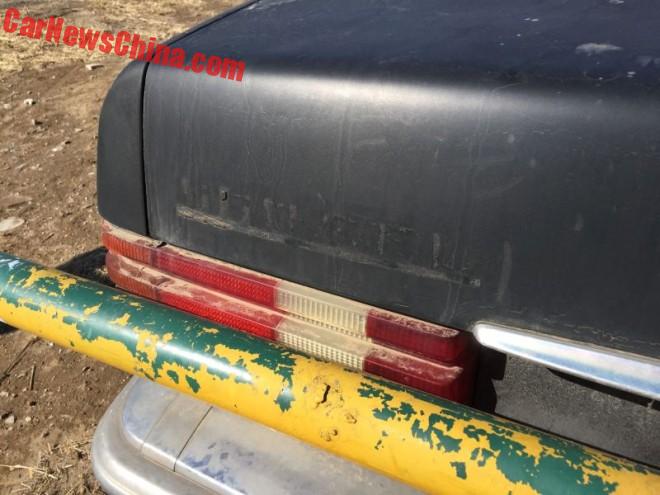 The badge was gone but not forgotten.